3702 S.E. Hawthorne Blvd.
Portland, OR 97214
Pub: (503) 467-7521
Movie Line: (503) 249-7474 x1
bagdad@mcmenamins.com
The Big Lebowski (R - 1998)
Pre-show Reception (sold out)
9 p.m. general admission doors; 11 p.m. film |
Reception sold out; Movie only: $3 per person |
21 and over
The Dude would like to cordially invite you to an exclusive evening of entertainment preceding the screening of his film, The Big Lebowski (he'd also like his rug back, but that's a different story). Musical entertainment provided by Here Come Dots, followed by The Troublemakers (pretty apt for Lebowski, dontcha think?) There's a limited amount of tickets, so hurry!
About The Big Lebowski (R - 1998)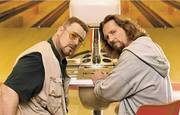 When "The Dude" Lebowski is mistaken for a millionaire Lebowski, two thugs urinate on his rug to coerce him into paying a debt he knows nothing about. While attempting to gain recompense for the ruined rug from his wealthy counterpart, he accepts a one-time job with high pay-off. He enlists the help of his bowling buddy, Walter, a gun-toting Jewish-convert with anger issues. Deception leads to more trouble, and it soon seems that everyone from porn empire tycoons to nihilists want something from The Dude.
Map & Directions
Tags for this Event:
Property > Bagdad
Related content (tags):