St. Patrick's Day Celebration at Ringlers Pub
The Chancers
6:30 p.m.–9 p.m. |
Free |
Minor with parent or guardian
About St. Patrick's Day Celebration at Ringlers Pub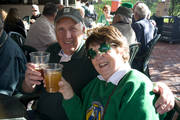 We do so love this particular holiday! At spots across the Pacific Northwest, we'll offer live music, Irish dancers, bagpipers, McMenamins Irish Stout, leprechauns, our annual limited-edition Devils Bit whiskey for sale, food specials and much more.
Food and drink:
Corned beef & cabbage
Irish Reubens
MacSleyne Irish stew
McMenamins Irish stout
Irish coffees for only $5!
About The Chancers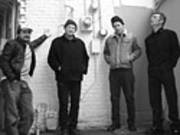 Featuring members of critically acclaimed but tragically short-lived Los Tuna Slappers, The Chancers inject a powerful blend of technical virtuosity and instinctive musicality into otherwise tired '80s hits, traditional Irish ballads, hackneyed paddy-whack tunes and, of course, polkas. Their influences range from household names such as Benny O'Conner of the esteemed Galway ceili band "Shaskeen" to lesser known balladeers such as Neil Diamond, Shane McGowan and Morrissey.
Though the band began on a porter-fueled dare -- hard work, consistency, and passionate drive have allowed The Chancers to frequently circuit such "it" Northwest locals as Gobel, Hepner, Pendleton, and Chinook. The boys have a near incestuous connection with their fans, which, combined with their rough-and-tumble, blue-collar aesthetic, has earned them a loyal following with unemployed loggers and nuclear power plant workers, bearded neo-Bolshevik hockey player types, and common debauchee.
The Chancers keep their line-up in an almost constant state of metamorphosis in order to avoid any sort of musical ennui. The band currently features the talents of master fisherman and four time all-Ireland champion Felim "yer box" Egan on accordion; professional magician and motivational speaker Paddy "where's my chair" Schutte on banjo, aerospace engineer and idiot savant Tim "give us a go at that" Cornell on fiddle, mandolin, guitar and anything else that's handed to him, rhythm kings Philo Pastorious and Jeff "the anchor" on bass and drums, and perhaps most notably -- boys underwear model Jono Connell serves as the dreamy front-man who can reportedly diffuse a bomb with song alone.
Map & Directions
Tags for this Event:
Events:
McMenamins Celebrations
Beer, Wine, and Spirits
Family
History
Holidays
Music > World Music
Property > Crystal Hotel
Related content (tags):