Homegrown DocFest
The Dimes
Friday, December 10, 2010
6 p.m. doors; 7 p.m. films |
$7 (proceeds to NW Documentary programs) |
Minor with parent or guardian
About Homegrown DocFest
Time for hot toddies, holiday cheer, and documentaries! On Friday, Dec 10 at the Mission Theater, all-new locally-made documentaries will hit the big screen. NW Documentary's "Homegrown DocFest" will feature films produced during Do-It-Yourself (DIY) Documentary and Discovering the DSLR workshops.
These quirky, enlightening and endearing short documentary films will introduce a host of colorful, local characters, and topics such as Ethiopian coffee, apple pie, Taiko drumming, and a mad dash wedding in Reno.
Help us celebrate a great year of documentary storytelling. The Dimes will perform throughout the evening, and we'll also feature our spot in Willamette Week's Give!Guide.
Conversation with the filmmakers and the release of the 2011 Spring Catalog of NW Documentary workshops follow the screening.
NW Documentary's workshops offer locals the training to create their very own short documentaries. Participants research, write, direct, shoot and edit their original creative audiovisual works.
NW Documentary is a 501c3 non-profit that tells untold stories, teaches others to tell their stories, and brings community together in the sharing of significant non-fiction stories.
About The Dimes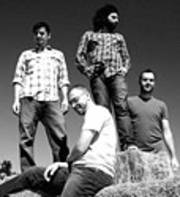 The Dimes exhibit a core material that overflows with distinct elements of mood, texture and a dim, yet lackadaisical melancholy. Centered on lyrics that create cinematic imagery, warming vocals are layered over soaring melodies, connecting stories of soft tension and desperation, amidst hints of release and resolution. Drawing comparisons to the likes of The Shins, Snow Patrol and Keane, The Dimes deliver a fresh, lyrically driven style, with obvious influences spanning The Beatles, to Beck's Sea Change album, to Death Cab's recent work.
Band members: Johnny Clay, Ryan Johnston, Pierre Kaiser, Jake Rahner
website:
Map & Directions
Tags for this Event:
Events > Benefit
Music:
Alternative/Indie
Singer/Songwriter
Property > Mission Theater
Related content (tags):