McMenamins
---

---
A Place for Family & Friends...
Hammerhead's Birthday
McMenamins - All Locations |
Wednesday, January 25, 2017
All day

|
|
All ages welcome | 21 and over to drink
About Hammerhead's Birthday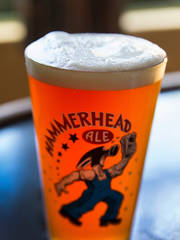 Our Hammerhead Ale was crafted 31 years ago, born out of creativity at our Hillsdale Brewery in Portland. All McMenamins are celebrating this signature ale with Hammerhead pint, can & growler fill specials, and tasty food specials. Along the way, collect the Passport stamp and track down clues on the Passport Discovery Hunt.
Hammerhead Ale Specials:
Pints of Hammerhead $4
Cans of Hammerhead to go $2
Growler fills of Hammerhead $8
Food Special:
Hammerhead Cheesesteak Sandwich - shaved prime rib, pickled pepper mix & grilled onions on a roll with cheese & ale sauce, $12.75
Passport Discovery Hunt Locations:
Hillsdale Pub & Brewery
23rd Avenue Bottle Shop
Broadway Pub
Raleigh Hills Pub
Wilsonville Old Church & Pub
Sunnyside Pub
McMenamins Breweries:
Map & Directions
Tags for this Event:
Property > McMenamins