Saloon & Hotel
836 N. Russell St.
Portland, OR 97227
Saloon: (503) 282-6810
Hotel: (503) 335-8900
Contact Us
Clawfoot Slumber
The Marvins
9:30 p.m. |
$8 in advance, $8 day of show |
21 and over
Buy Tickets
Tickets on sale now!
About Clawfoot Slumber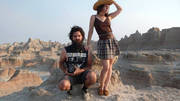 alEx sea, ewie oiselle and friends.
"Akin to a musical score in a David Lynch film, psychedelic folk-noir band Clawfoot Slumber provides listeners a cinematic experience ripe with moments of silence and confronting sound. Never afraid to be frenzied or subdued, violent or pastoral, confessional or confusing, Clawfoot Slumber will deliver presence to both concert hall and small venue alike. Largely impressionistic-swaths of it might justifiably be called atmospheric-but it doesn't lack solidity. A presentation that is firmly rooted both in the music of the old weird America and the layers and textures of modern jazz, classical music, and edgy rock n' roll, this band will excite and entrance you."
"An innovative show of psych/folk/noir, hailing from everywhere and nowhere at once. "
"Musical intelligence and ability this esteemed is a rare gem, unique and afforded with many intricacies. Never afraid to be frenzied or subdued, violent or pastoral, confessional or confusing. Sharp like a blade and fuzzy like a peach."
Eat Me, Drink Me, Watch Me, Hear Me from clawfoot slumber on Vimeo.
Website:




Explore:




Watch:
About The Marvins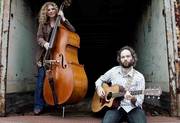 With over 15 years of collaboration under their belt, Carmen Paradise (bass and vocals) and Peter LeClair (guitar and vocals) have taken The Marvins on a long winding journey that has picked up endless influences and a created a multi-dimensional sound that is their own. The Marvins have played over 500 performances across the continental US, and self-released two full length albums as well as a handful of EPs. Since it's genesis, The Marvins sound has gone through a great deal of metamorphosis and stylistic change, which has led them to their latest release, Train Tracks, a collection of Americana modern folk songs written for and inspired by the U.S. Railway.
With soaring harmonies, timeless, romantic and inspired lyricism, and percussive guitar and bass work, this acoustic duo creates a high energy live performance which could rightly be mistaken as a 5-piece string band.
Website:
Map & Directions
Tags for this Event:
Music:
Americana
Rock
Singer/Songwriter
Alternative/Indie
Property > White Eagle
Related content (tags):