at Crystal Hotel
303 S.W. 12th Ave.
Portland, OR 97205
Local: (503) 972-2670
Elsewhere: (855) 205-3930
Contact Us
Shelby Earl
Zach Fleury
As part of her week long residency
7 p.m. |
Free |
21 and over
About Shelby Earl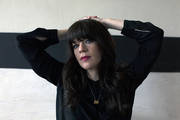 Seattle's amber-voiced indie-folk artist, Shelby Earl, wasn't born a songwriter. She became one. And in the words of NPR's Ann Powers "She writes for those of us who've been through a few things." Earl recognized from long stints in other bands, singing other people's songs, that she was moved to do more — to become the kind of generative artist she'd long admired. The break up of her band, The Hope, in 2007 began Earl's search for a role beyond being just "lead singer." It was that search, and her belief in the rewarding work of songwriting, that led Earl to quit her corporate job in 2009 and start sharing her astoundingly powerful songs. In 2011 she released her debut solo album Burn the Boats, produced by John Roderick of the Long Winters and released on Local 638 Records. The title was inspired by her stepfather telling someone that Earl had "pulled all the boats ashore and burned them" to live her dreams.
Earl's music, as a result of her determination and daring, lives gracefully at the intersection of romanticism and strength. Burn the Boats revealed vulnerability and wisdom that had long been building under the smooth surface as she performed other people's music. Bringing in friends from various Seattle bands (Fleet Foxes, Telekinesis, the Long Winters, the Maldives, and more) to lend their talents, Burn the Boats was Earl stepping out from her community, with the help of it.
Since its release, Earl has garnered praise from the likes of Rolling Stone, Paste, NPR, Pop Matters, Spinner, KEXP, City Arts, and more, and has shared stages with artists such as Benjamin Gibbard of Death Cab for Cutie, Rhett Miller, David Bazan, Damien Jurado, Crooked Fingers, The White Buffalo, Loudon Wainwright III, and Lavender Diamond.
During the inception of her follow-up album, Swift Arrows, Earl approached celebrated Seattle folk artist, Damien Jurado, for his help as a producer. Expecting reluctance, Jurado surprised Earl by starting their first meeting with an enthusiastic "HERE'S WHAT WE'RE GOING TO DO!" and proceeding to lay out an entire plan for recording and production. And here is what they were going to do, and did: A big room. Earl playing live and exposed – one mic on her voice and one mic on her guitar – just how people used to make records and just how she'd wanted it since she hauled her boats ashore and set them alight. Two other players flanking her on either side with acoustic guitars, playing just what she played, adding spine-chilling depth and life to the sound, ripping it out of frail singer-songwriter territory.
All the basic tracks on Swift Arrows, including lead vocals, were tracked live at Columbia City Theater in Seattle, WA. Damien Jurado partnered with engineer/mixer/producer Gary Mula to capture the big, lush sound he was going for. Half the songs were recorded with just vocals and acoustic guitars (piano, drums, and other overdubs added later), and the other half were tracked with the full band playing live together in the room. The entire record was made in only eight days and the experience was magical for everyone involved. Earl describes the result as "more raw, and I suppose in some ways more flawed than the last record…but it's honest and it feels good…I laid my heart out on tape and I believe people will be able to hear and feel that."
Swift Arrows is a record full of dark corners and dazzling shafts of light. An exploration in gamboling piano lines slowing into lingering, thrumming ballads, Earl sounds as though she's singing from the very boat she burned before- throwing breakaway melodies into a whipping wind of resonant choral singers. An album about the fraying of love, about its anger and its mercy, about despair and boundless hope, knotted together with lush strings and steady, distant drums, It is clear Earl knows that once one has "burned the boats" there is no going back, only going forward, headlong into one's new life. Swift Arrows is about doing just that, and doing it boldly
website:
Map & Directions
Tags for this Event:
Property > Crystal Hotel
Related content (tags):