Saloon & Hotel
836 N. Russell St.
Portland, OR 97227
Saloon: (503) 282-6810
Hotel: (503) 335-8900
Contact Us
Benefit for Oregon Disability Sports
Friends and Family Night
Wednesday, August 13, 2014
5 p.m. 'til close |
50% of night's proceeds donated to the beneficiary! |
All ages 'til 9 p.m.
About Benefit for Oregon Disability Sports
Oregon Disability Sports is a nonprofit organization that empowers people with physical disabilities through sport and fitness. We serve as a resource for healthy physical activities for the physically disabled by providing support for competitive athletes striving for excellence and by promoting general fitness and providing outlets for recreation and competition. The purpose of those athletic opportunities is to teach and develop life skills such as self-confidence, socialization and independence to people so that they can better participate in society.
Through sports, we are opening doors to healthy lifestyles.
Oregon Disability Sports (ODS) began in 1971 as an effort to create an outlet or opportunity for people with disabilities in the Salem area to recreate and compete in athletics. Today, ODS offers programs in rugby, basketball, skiing and hand cycling; we loan equipment to athletes interested in trying sports; we grant scholarships to athletes to offset their training or traveling expenses; and we serve as an information resource for sports and fitness for people with physical disabilities. We are located in Portland and primarily serve the metro area – including Vancouver, Washington – but we are looking to expand our influence and resources across the state of Oregon and in Southwest Washington.
About Friends and Family Night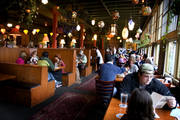 McMenamins Hotels, Pubs & Breweries is committed to the well-being of our community. Our locations are active proponents in their respective communities, striving to keep our neighborhoods vital. Toward that end, we target opportunities that bring our properties, employees and nonprofit organizations together.
In addition to this emphasis on supporting local communities in which McMenamins has a presence, we focus contributions on three key areas: education, human support services and community development.
So on Friends and Family Nights, bring everyone you know out for burgers, beers, wine, cocktails, salads, sandwiches, tater tots, the day's specials and more – because at the end of the night, 50% of the evening's total sales are donated to the beneficiary! The more you order, the more is earned for a good cause!
Map & Directions
Tags for this Event:
Events:
Benefit
Family
Friends & Family Night
Property > White Eagle
Related content (tags):