Come have fun in school... for once...
5736 N.E. 33rd Ave.
Portland, OR 97211
Local: (503) 249-3983
Elsewhere: (888) 249-3983
Contact Us
Halfway to St. Patrick's Day
Hanz Araki
Saturday, September 13, 2014
All day; Music begins at 1 p.m. |
Free |
All ages welcome
About Halfway to St. Patrick's Day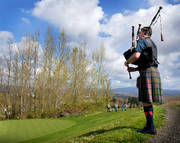 OK, we know, it's kind of a wacky idea – no one celebrates halfway to St. Valentine's Day, right? (Although, now that we think about it... nahhh...)
But, regardless, we love St. Patrick's Day and we love being halfway to it! So let's have some drinks, hear some music and have a full-on good time together. Because why not?
** SCHEDULE **
Free · All ages welcome
1 p.m 'til 3 p.m. · Hanz Araki · In the Courtyard
6 p.m 'til 9 p.m. · Hanz Araki · In the Courtyard
** SPECIALS **
Irish Fries Are Smiling
Our fresh-cut fries topped with melted cheddar cheese, crisp bacon, sour cream & green onions
Irish Reuben
Hot corned beef & swiss cheese with buttermilk coleslaw & sweet-hot mustard sauce on grilled rye bread with your side of choice
Iced Celtic Coffee
Irish Whiskey, sugar, cream and our own iced coffee
McMenamins Irish Stout
A coffee-like roasted barley bitterness, semi-sweet chocolate & a moderate hop bitterness balances with this hearty backbone
About Hanz Araki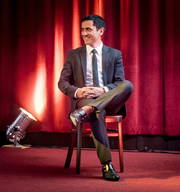 The path of a musician is often unpredictable. One wouldn't imagine that six generations of mastery of the Japanese shakuhachi would lead to a career in Celtic music, however that is exactly how it played out for accomplished flute player and traditional singer Hanz Araki. The son of Irish and Japanese parents guaranteed a household with a broad spectrum of musical influences.
His maternal grandmother, born in Clare, traveled with her mother (Mary Gallagher, also a Clare woman) across the Atlantic, landing first in Canada and making a second long journey across North America before arriving in Seattle, WA. There, she was joined by her husband Samuel (from Achill Isl. Co. Mayo) who had stayed behind to finish his post in the Irish Coast Guard. His maternal grandfather's family are Campbells who settled in the hills of Jackson Co., NC. from Co. Tyrone in the late-18th century after having been displaced from Glasgow, Scotland decades before.
Hanz's father is shakuhachi grandmaster Tatsuya Kodo Araki, the fifth generation to inherit the name Kodo, one of the most important names in the world of traditional Japanese music. "Hanz" is short for "Hanzaburo," the name of his great-great grandfather who developed the notation used in shakuhachi music even to this day.
In April of 1988, Hanz began his apprenticeship with his father, to make his professional debut in August of that same year. Colleagues of his father likened Hanz's playing to Kodo IV, despite the two never having met. Hanz continued studying under his father, and taught at his father's alma mater (the prestigious Keio University in Tokyo), as well as making concert appearances throughout Japan. In 2009, in a private ceremony in Tokyo, the title of Kodo VI was conferred on Hanz as is customary in the tradition.
Upon returning to his hometown of Seattle in 1992, Araki and a group of close friends with a shared love of Irish and Scottish music started a band called The Whyos. The discipline, techniques, and mechanics he learned on the shakuhachi translated very well to the penny whistle and the Irish flute. Seattle being home to respected stalwarts like uilleann piper Tom Creegan and fiddler Dale Russ gave Hanz no shortage of guidance in his exploration of traditional Irish music. Celtic music became a single-minded focus, turning songs and tunes of Scotland, Ireland, and England into a second language. His uncanny grasp of Celtic music, both instrumental and vocal, quickly led to opportunities for touring across the United States and Canada, the UK, Spain, Thailand, Mexico, Brazil, and an annual tour of Japan.
In a career spanning twenty-five years, Araki, now a resident of Portland, Oregon, amassed an impressive body of award-winning Celtic music albums, including a series of seasonally-themed albums released in 2012 with fiddle and guitar player and vocalist Kathryn Claire. A project to collect, remix, and remaster recordings of his father, grandfather, and great-grandfather is also currently in production in Japan.
Festival appearances include the Austin Celtic Festival, the Maine Celtic Celebration, the Missoula Celtic Festival, KVMR Grass Valley Celtic Festival, Milwaukee Irish Festival, Bumbershoot, Celtic Connections, and over 20 years of performances at the Northwest Folklife Festival. Hanz has also been invited to perform with the Seattle Symphony, at the Gates Estate, and for the Japanese Consul General.
Artist's Page:
Map & Directions
Tags for this Event:
Events:
McMenamins Celebrations
Holidays
Music > World Music
Property > Kennedy School
Related content (tags):