Come have fun in school... for once...
5736 N.E. 33rd Ave.
Portland, OR 97211
Local: (503) 249-3983
Elsewhere: (888) 249-3983
Contact Us
Science Fiction & Fantasy Writers of America presents...
SFWA Pacific Northwest Reading Series
featuring
Mike Moscoe
Leah Cutter
Ray Vukcevich
Wednesday, April 30, 2014
7 p.m. 'til 8:30 p.m. |
Free |
Minor with parent or guardian
About SFWA Pacific Northwest Reading Series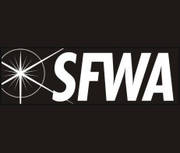 The greater Pacific Northwest is home to Ursula K. Le Guin, Kay Kenyon, Jay Lake, Nancy Kress, Brent Weeks, Ted Chiang and Ramona Quimby. Known for their science fiction and fantasy escapades, they will be celebrated as part of the Pacific Northwest Reading Series. These free quarterly events provide the Northwest science fiction and fantasy community a chance to gather, network and enjoy readings from local and visiting authors.
Each event features three authors who read from their latest work, interpreting and explaining their concepts and vision. In addition, space is provided for networking and conversation. Booksellers from Wrigley-Cross Books will be on hand with copies of the authors' and other books for you to buy.
SFWA Website:




Wrigley-Cross Books:
About Mike Moscoe
Mike Moscoe, a.k.a. Mike Shepherd, is the author of the best selling military science fiction Kris Longknife saga. The eleventh book, Kris Longknife – Defender came out from Ace in October. In February, he will continue Kris's grandparent's story with To Do or Die. In June, Kris's frenemy will tell her own story with Vicky Peterwald – Target. His novels have been published in Japanese, German, Spanish and Polish and are also available from Audible.com.
About Leah Cutter
Leah Cutter currently lives in Seattle – the land of coffee and fog. However, she's also lived all over the world and held the requisite odd writer jobs, such as working on an archeology dig in England, teaching English in Taiwan, and bartending in Thailand. She writes fantasy set in exotic times and locations such as Tang dynasty China, WWII Budapest, rural Louisiana, and the Oregon coast. Her short fiction includes literary, fantasy, mystery, science fiction, and horror, and has been published in magazines as well as anthologies and on the web. Read more stories by Leah Cutter at www.KnottedRoadPress.com. Follow her blog at www.LeahCutter.com.
About Ray Vukcevich
Ray Vukcevich's latest book is Boarding Instructions from Fairwood Press. His other books are Meet Me in the Moon Room and The Man of Maybe Half-a-Dozen Faces. His fiction has appeared in many magazines and anthologies. Read more about him at www.rayvuk.com.
Map & Directions
Tags for this Event:
Property > Kennedy School
Related content (tags):