Back to school in Bend!
700 N.W. Bond Street
Bend, OR 97703
Local: (541) 382-5174
Elsewhere: (877) 661-4228
Contact Us
Sponsored by Des Chutes Historical Museum and the Oregon Historical Society
"Free Land – Just Add Water"
Oregon Encyclopedia History Night
at Old St. Francis
presented by
Steve Johnson
General Manager, Central Oregon Irrigation District (COID)
6 pm. doors; 7 p.m. event |
Free |
All ages welcome
About "Free Land – Just Add Water"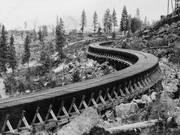 The history of the settlement of Central Oregon begins with the water.
Before the first water was diverted from the Deschutes River most westward emigrants settled in the fertile valley west of the Cascade Mountains. But add water and the desert begins to bloom with homesteaders and crops. That's where the early irrigation companies come in. A.M. Drake saw the promise of Central Oregon and started the development that we all enjoy today.
With the help of Levi Weist he devised a plan to deliver water to over 84,000 acres of land using wooden flumes and gravity. Now, in 2014, COID still uses much of that original system of canals and laterals to deliver water to our patrons.
COID website:




Des Chutes Historical Museum:




Oregon Historical Society:
About Oregon Encyclopedia History Night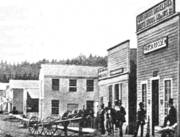 The Oregon Encyclopedia hosts a series of History Nights in collaboration with McMenamins pubs. Come join us for an enlightening evening of history, served up with food and a pint or two of good beer, and find out more about the history and culture of our state from OE authors. Bring your encyclopedia-worthy Oregon stories to share with the OE Editors-in-Chief.
Oregon Encyclopedia website:
Map & Directions
Tags for this Event:
Events > History
Property > Old St. Francis School
Related content (tags):