& Gearhart Hotel
1157 N. Marion Ave.
P.O. Box 2299
Gearhart, OR 97138
Pub: (503) 717-8150
Contact Us
Great Northwest Music Tour
Brothers and Sister
7 p.m. |
Free |
All ages welcome
Every month the Great Northwest Music Tour blazes a fresh musical trail, bringing an ever-changing lineup of talent to McMenamins Historic Properties. There is no admission charge to the festivities, and our unique hotels offer food, handcrafted beverages and a cozy place to bed down after the last note is played. Bring your friends and family and jam to a different artist every month.
About Brothers and Sister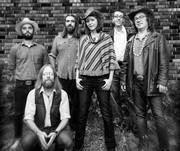 No college bar cover band-come-lately, Brothers and Sister have studied the music of the Allman Brothers Band intensely, finding ways to capture the sound, style and feel of the original "At Fillmore East" concert while allowing for their own individual spirit and joy to shine through. They perform the music with haunting detail, to create an incendiary and heart-felt evening that would gratify even the Allmans themselves.
Leading the dual-charge of guitars are beloved axe-slingers Lewi Longmire (AgesandAges, Denver, Michael Hurley, Fernando) and Anita Lee Elliott (Viva Voce, Blue Giant, Calico Rose). The demanding rhythm section features Matt Cadenelli (Don of Division, Fernando), Ryan Spellman (Quiet Life, Denver), and bassist Tim Huggins (James Low Western Front, Moody Little Sister). Keyboardist extraordinaire Steve Kerin (Too Loose Cajun and Zydeco Band, Atomic Gumbo) completes the original sextet. As a bonus, harmonica ace David Lipkind (Woodbrain, I Can Lick Any SOB in the House) is brought in help fill in the guest harp from the Fillmore concert.
Map & Directions
Tags for this Event:
Property > Gearhart Hotel & Sand Trap Pub
Related content (tags):