Saloon & Hotel
836 N. Russell St.
Portland, OR 97227
Saloon: (503) 282-6810
Hotel: (503) 335-8900
Contact Us
Naked Soul
Luke Dowler
Jeraboam
9:30 p.m. |
$8 in advance, $8 day of show |
21 and over
Buy Tickets
Tickets on sale now!
About Naked Soul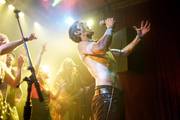 Recognizing that one musical genre does not fit all, NAKED SOUL plays a mix of styles in their effort to connect all people.
The four tightly-bonded individuals from the San Francisco Bay Area have made it their art to cultivate palpable energy in a live crowd. With styles vacillating between Folk Rock, Soul Rock, Americana, Funk, Hip Hop, Rocksteady, Dixieland, and Pop, and with lyrics containing deep messages of living life fully aware, the band brings laughter, dancing and joy to audiences of practically any age, background or credo.
The foundation of the band is built on embracing each other's individuality, and when given their chance to shine, each member goes to work. Chris Bryden (Lead vocals, guitar, keys, harmonica) brings a mix of Dave Matthews, Ben Harper, Bob Marley, and Anthony Kedis (Red Hot Chili Peppers); Tony Glaser (Upright and electric bass, vocals) delivers complex, funky bass lines akin to Les Claypool (Primus) and Flea; Robin Applewood (Lead guitar, vocals) moves your feet with upbeat jams like those of Michael Franti & Spearhead and soaks you in ethereal guitar solos akin to David Gilmour of Pink Floyd; and Joe Glaser (Drums, cajón, percussion) brings an unyielding backbeat like that of Clyde Stubblefield (James Brown) and chakra-grounding rhythms akin to Led Zeppelin's John Bonham. Put it all together and the best description is more like a feeling than a defined musical genre.
The band has traveled internationally, headlined notable venues like Yoshi's and The Great American Music Hall, shared the stage with legends like Carlos Santana, Willie K, and Tim Reynolds of Dave Matthews Band, performed at major events like High Sierra Music Festival and played at yoga classes, schools and local community events. In addition, the band has worked with numerous charities and organizations that promote music education, world peace, and sustainability causes.
Only together five or so years, the band sees their musical journey as just getting started and at the same time, fully complete. Nevertheless, they continually strive to inspire others to live with a naked soul. And like a mountain with no top, they will climb it "until they get there."
Map & Directions
Tags for this Event:
Property > White Eagle
Related content (tags):