30340 SW Boones Ferry Rd
Wilsonville OR 97070
Phone: (503) 427-2500
Fax: (503) 427-2519
Contact Us
Sam Densmore
Thursday, September 26, 2013
6 p.m. |
Free |
All ages welcome
About Sam Densmore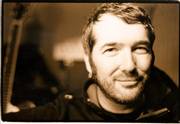 Portland, Oregon singer/songwriter and music producer, Sam Densmore, has been a musician his whole life, teaching himself guitar and eventually earning a BA degree in music composition in 1996. A self-proclaimed rock n roll renaissance man at heart, he started out playing in south coast clubs at age 14. Since then he's performed on bills with a diverse array of indie artists including Frank Black, Richmond Fontaine, and Mike Watt among others.
Since 1996, as a front man and songwriter, Densmore has nationally released five CDs with the bands Slow Children (Running Records), Frequency db (Resistor Records), and Silverhawk (Pop Sweatshop. BEC Music, MastanMusic Records) where they received national and regional press in print and online publications such as CMJ, Aversion, Willamette Week, The Oregonian, Portland Mercury, and more.
As an artist, producer and sound engineer, Sam has worked alongside some of the most prominent studio cats on the west coast including Jeremy Wilson (Dharma Bums/Pilot/Cribs), Sean Flora (The Shins, Morgan Grace), Scott Swayze (Modest Mouse/Dub Narcotic), Barrett Jones (Foo Fighters/Nirvana/Melvins), Steve Wold (Seasick Steve/Modest Mouse/Two Ton Boa), and Ezra Holbrook (Decemberists/Minus 5/Dr Theopolis). He's worked on records for the High Violets, Dry County Crooks, Kind of Like Spitting and many more.
Densmore's upcoming album, Ku-Thar'-Tik, features his sweet and scratchy vocals, which have been compared to artists like Michael Stipe and Mountain Goats. His vocals serve as a backdrop to his catchy melodies and relatable lyrics. Emotional and contemplative, the songs themselves are about Densmore's first 40 years thus far, and all the love, loss, anxiety and experience that comes with it.
Reverbnation:
Map & Directions
Tags for this Event:
Property > Wilsonville Old Church & Pub
Related content (tags):