An escape into the extraordinary
3505 Pacific Ave.
Forest Grove, OR 97116
Local: (503) 992-9533
Elsewhere: (877) 992-9533
Contact Us
Whistlin' Rufus
6 p.m. |
Free |
All ages welcome
About Whistlin' Rufus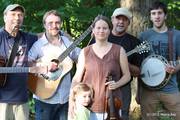 The Whistlin' Rufus musicians bring a lot of experience to the stage and have roots in Classical, Irish, Folk, Bluegrass, Rock and Roll and Jazz music. When you stir it all together combining their exciting knack for arrangements, their three and four part vocal harmonies, original ballads and toe tapping fiddle tunes, well, you end up with Whistlin' Rufus. The band has been together since 2003, celebrating their 10th anniversary this year.
Pat Connell- Mandolin, Guitar, Vocals - Founding member of Whistlin'Rufus, Pat also acts as the booking agent, web-guru, equipment manager, and press agent for the band. Pat has been performing in bluegrass and country rock bands for many years from Bend to Portland. Pat and Ritchie co-write much of the original compositions of Whistlin' Rufus.
Ritchie Wernick- Guitar, Harmonica, Vocals - Founding member of Whistlin' Rufus, Ritchie is the tunesmith, arranger, producer and resident happy face in the group. Ritchie learned his craft in numerous coffee houses on the East coast.
Natasha O'Neal - Fiddle, Vocals - Natasha hails from Wisconsin and her fiddle playing and high vocal harmonies are the highlight of a Whistlin' Rufus show. Nat stays fit by chasing around husband Seth and kids Finn and Eliza
Patrick Connell - Guitar, Vocals - Patrick joined Whistlin' Rufus last year after playing for several years with a Bluegrass band out of Ashland, "The Mighty Lonesomes". Patrick is the lead guitar player and his flat picking solo's are the centerpiece of the Whistlin' Rufus sound.
Zachary Banks - Cello, Vocals - Zach is the newest member of Whistlin' Rufus and completes the band with his amazing cello and high lonesome harmonies. A classically trained musician, Zach brings composure, youth and great good looks to the band.
Billy Failing - Banjo, Vocals - Billy is completing his senior year at the prestigious Berklee College of Music as one of a handful of students majoring in Banjo. At Berklee, Billy is exposed to the instructions of such banjo legends as Bela Fleck, Tony Trischka and Norm Pikelny. Whistlin' Rufus is thrilled to have Billy join us for many of our summer festival events.
website:




MySpace:




YouTube:




Sonicbids:




Twitter:




Facebook:
Map & Directions
Tags for this Event:
Music:
Americana
World Music
Property > Grand Lodge
Related content (tags):