A truly remarkable destination.
2126 S.W. Halsey St.
Troutdale, OR 97060
Local: (503) 669-8610
Elsewhere: (800) 669-8610
Contact Us
Miss V. of Brownish Black
Saturday, August 24, 2013
7 p.m. |
Free |
21 and over
About Miss V. of Brownish Black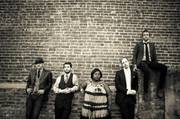 East Coast meets Midwest meets West Coast in this original eight- piece soul project founded by Motor City transplant M.D. Sharbatz: super tight rhythm section underneath powerful horns, bleeding keys, sexy guitar and two soulful powerhouses up on the mic.
"... garage soulsters Brownish Black remind the listener of the halcyon days of yore when the British invasion Animals absorbed American R&B, then sweat it back out their pores over crazed listeners in the former colonies." - Portland Tribune 2010
"The stew of influences making up Brownish Black has a curious chemistry to it. Theirs is a ragged mix of old-school R&B soul and garage rock I didn't even know I was missing until I first heard them and realized I couldn't remember the last time I'd heard a good band in the tradition of Them or the Animals. It's sweaty and loose enough to be dynamic but formal enough that the chorus always follows the verse. It's a genuinely exciting thing to hear M.D. Sharbatz wrap his yelping, yearning voice around Vicki Porter's solid harmonies and belt like the '70s never happened." DAVE BOW - Portland Mercury
Website:
Map & Directions
Tags for this Event:
Property > Edgefield
Related content (tags):