A truly remarkable destination.
2126 S.W. Halsey St.
Troutdale, OR 97060
Local: (503) 669-8610
Elsewhere: (800) 669-8610
Contact Us
Hanz Araki & Kathryn Claire
Elizabeth Nicholson & Bob Soper
7 p.m. |
Free |
All ages welcome
About Hanz Araki & Kathryn Claire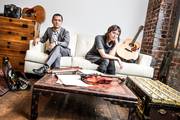 Award-winning Irish flute player Hanz Araki is the quintessential world music musician. After six generations, the name Araki is synonymous with the Japanese shakuhachi (an end-blown bamboo flute) which Hanz mastered making his professional debut in 1988. After four years of concert appearances and teaching at the prestigious Keio University in Tokyo, Japan, Hanz returned to his hometown of Seattle, WA and found himself drawn to the world of Celtic music. The penny-whistle and the Irish flute became his single-minded focus, and jigs and reels became a second language. His unique style and passion were soon recognized and met with high praise.
Hanz also discovered his voice was well-suited to the songs of Scotland, Ireland, and England and is highly regarded for his interpretation of folk songs in what is one of the most exciting living traditions.
After several tours across the US, Canada, and the UK (first with the Juno Award winning Paperboys, then Casey Neill) as well as a return to Japan, now as a well-respected Irish flute-player, Hanz moved to Portland, OR in 2006. This move proved to be most fortuitous as it led to the musical partnership with Kathryn Claire.
A self-taught guitarist and accomplished vocalist and fiddle-player, Kathryn has asserted herself in a new generation of traditionally-inspired musicians. Her violin-playing exhibits a technical grace which is matched only by her truly captivating voice. While she possesses the rare ability to move seamlessly across genres, her love and deep respect for traditional music has long been a driving influence, and those roots can be heard in her own original music.
Early classical training gave her a strong foundation, but naturally gave way to her own creative inclinations. Kathryn taught herself guitar at a young age in order to explore her own voice as a songwriter and accompanist. She has spent years cultivating her craft as a violinist, singer and songwriter.
Kathryn and Hanz quickly discovered their shared love of harmony, and a creative process began that has produced a tremendous body of work. Their shared passion for traditional music is magnetic and they have become a favorite at music festivals and venues in the US and abroad.
Frequent collaborators include Cary Novotny, Joe Trump, and Cal Scott, (US); Takeaki Nagahama, Aiko Obuchi, and Hirofumi Nakamura (Japan).
About Elizabeth Nicholson & Bob Soper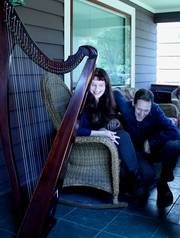 Irish harp, North Indian sarod, Greek bouzouki, Middle Eastern and African percussion, Irish and Appalachian fiddle, folk guitar and harmony vocals--no one has ever been able to reach a final tally on just how many instruments Elizabeth Nicholson and Bob Soper play, or how many cultures influence their music. Duo partners for seven years, they also share the dual role of fronting the critically acclaimed international roots quintet Stringed Migration. Their music has been hailed as "performed with the sort of resonance that separates masters from neophytes" (Jerome Clark, rambles.net, 2009), and has been featured on NPR's The Thistle and Shamrock, The Midnight Special, and hundreds of other radio programs worldwide.
Considered among the top American interpreters of Irish traditional music for harp, Elizabeth Nicholson's harp studies have also included classical, Paraguayan, and medieval music, and she has stretched the traditional boundaries of the instrument into rock music and country blues. Her 2006 CD of traditional and original music, Sink or Swim was released to widespread critical praise and international airplay, and was chosen "Folk Album of the Month" on Iowa Public Radio.
Bob Soper is counted among Portland's most astonishingly versatile multi-instrumentalists. A rock and jazz drummer from a young age who also studied classical Indian music at the Ali Akbar College, he went on to learn the Irish fiddle, ultimately becoming one the Northwest's most sought-after players. Also an accomplished guitarist, bouzouki player and vocalist, he's been a member of some of the region's most beloved and successful ensembles, including the Irish bands C'l an T' and Grafton Street, as well as the old-time/country-blues group The Pagan Jug Band.
Map & Directions
Tags for this Event:
Property > Edgefield
Related content (tags):