In the heart of Oregon's wine country...
310 N.E. Evans Street
McMinnville, OR 97128
Local: (503) 472-8427
Elsewhere: (888) 472-8427
Contact Us
15th Annual McMenamins UFO Festival
9 a.m. doors; 10 a.m. Festival |
- |
All ages welcome
Buy Tickets
Tickets on sale now!
About 15th Annual McMenamins UFO Festival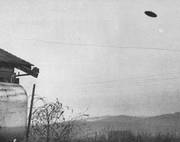 Thursday – Sunday
May 15–18, 2014
Set in a small town in the middle of Oregon wine country, the UFO Festival explores and celebrates the possibilities of life beyond Earth. Skeptics and believers alike are invited to enjoy all the events happening throughout the weekend!
Thursday, May 15
7 p.m.
"The 1950 Trenty UFO Case: The Inspiration for UFO Fest"
A presentation by Tim Hills, McMenamins Historian
7:30 p.m.
Kickoff Event: Speaker Stanton T. Friedman
McMinnville Community Center
All ages welcome • $15 advance, $20 day of event
Included as part of the UFO VIP Pass
7 p.m. 'til 12 midnight
"Ground Zero with Clyde Lewis" – Live radio broadcast
Paragon Room at Hotel Oregon
All ages welcome • Free
Friday, May 16
11:30 a.m. 'til 1 p.m.
Lunch with the Speakers
Mattie's Room in Hotel Oregon
All ages welcome • $25 per person
A small gathering to meet the speakers and ask questions over lunch
2 p.m. 'til 5 p.m.
UFO Film Presentations and Discussion
McMinnville Community Center
All ages welcome • $10 at the door.
Included as part of the UFO VIP Pass
• 2:00 p.m. – Maury Island Incident, a discussion and screening of clips from this new, not-yet-released film by its writer and director
• 3:30 p.m. – Mirage Men [2014], screening of this just released, award-winning film [newly confirmed addition to schedule]
3 p.m. 'til 10 p.m.
McMinnville Downtown Association "Landing Party"
U.S. Bank Plaza
All ages welcome • Free
Featuring music from Vivid Curve and Jake Blair Band
3 p.m. 'til 7 p.m.
UFO Video Contest Screening
Third Strteet Pizza Company / Moonlight Theater
All ages welcome • Free
Continuously showing all entries
7 p.m.
Speaker: David Marler
McMinnville Community Center
All ages welcome • $15 advance, $20 day of event
Included as part of the UFO VIP Pass
Author/expert on triangular UFO phenomenon and an independent UFO researcher
7 p.m.
Kirby Swatosh & The Moon Rock Patrol
Cellar Bar in Hotel Oregon
21 & over only • Free
"Spaced out rock"
7 p.m. 'til 12 midnight
"Ground Zero with Clyde Lewis" – Live radio broadcast
UFO Fest Tent on Evans Street
All ages welcome • Free
8 p.m. 'til 11 p.m.
Live Music from The Windshield Vipers
At Mattie's Room in Hotel Oregon
All ages welcome • Free
Saturday, May 17
9 a.m. 'til 5 p.m.
Food, Beer & Gift Tent
UFO Fest Tent on Evans Street
All ages welcome (21 & over for alcohol)
10 a.m.
Speakers: James Clarkson & Kewaunee Lapseritis
McMinnville Community Center
All ages welcome • $15 advance, $20 day of event
Included as part of the UFO VIP Pass
12 noon 'til 7 p.m.
UFO Video Contest Screening
Third Street Pizza Compay / Moonlight Theater
All ages welcome • Free
Showings at 12 noon, 5 p.m. & 7 p.m., followed by live music
1:15 p.m. (registration at 12:45 p.m.)
UFO Abduction Dash
On the Parade route • Meet at U.S. Bank Plaza
All ages welcome • Price TBD
2 p.m.
UFO Costume Parade
Along Third Street
All ages welcome • Free
3 p.m. – Immediately following Parade
Third Street Dance! Featuring Garcia Birthday Band
Third Street in front of Hotel Oregon
All ages welcome • Free
3 p.m.
Willamette Radio Workshop presents
"Escape & X- Minus One" Radio's Greatest Sci- Fi Adventures"
Mattie's Room at Hotel Oregon
All ages welcome • Free
4 p.m.
Speaker: George Noory Meet & Greet
McMinnville Community Center
All ages welcome
$50 per person, includes admission to UFO Panel event
Included as part of the UFO VIP Pass
4 p.m.
Alien Pet Costume Contest
Buchanan-Cellers, 855 NE Fifth Street
All ages welcome • Free
7 p.m.
Evening Speaker event: UFO Panel Discussion
Featuring George Noory, Stanton Friedman, David Marler, James Clarkson, Peter Davenport
McMinnville Community Center
All ages welcome • $25 advance, $30 day of event
Included as part of the UFO VIP Pass
7 p.m.
Kirby Swatosh & The Moon Rocket Patrol
Cellar Bar in Hotel Oregon
21 & over only • Free
"Spaced out rock"
8 p.m.
Alien Costume Ball featuring Orchestre L'Pow
Mattie's Room at Hotel Oregon
All ages welcome • Free
Sunday, May 18
9:30 a.m.
Breakfast with Peter Davenport
Mattie's Room at Hotel Oregon
All ages welcome • $20 per person
UFO Festival Website:
Map & Directions
Tags for this Event:
Events:
McMenamins Celebrations
Family
History
Beer, Wine, and Spirits
Music:
Rock
Dance Party
Groove/Jam
Property > Hotel Oregon
Related content (tags):