at Crystal Hotel
303 S.W. 12th Ave.
Portland, OR 97205
Local: (503) 972-2670
Elsewhere: (855) 205-3930
Contact Us
Garcia Birthday Band
w/guest Lewi Longmire
7 p.m. |
Free |
21 and over
About Garcia Birthday Band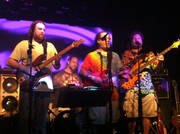 Garcia Birthday Band (GBB), based in Portland, Oregon, is a group of veteran musicians interpreting and celebrating the vast repertoire of the late Jerry Garcia and The Grateful Dead.
But this isn't a "tribute band!" Drawing on years of individual and shared experience, these players are able to craft and transform these tunes into something fresh and original. Solid chops, tight arrangements and fine harmonies all contribute to the band's musical travels and explorations of possibly the greatest and most diverse songbooks of all time.
Always sure to raise the roof and keep the dance floor rocking, hoppin' and shakin', the band's quickly growing "GBB Family" fan base finds the community spirit and kind vibes contagious.
Music-lovers with a wide variety of tastes enjoy this band's extensive playlist which includes classics from Bob Dylan, Smokey Robinson, The Beatles, Johnny Cash, Chuck Berry, Jimmy Cliff, Traffic, Dr. John, Merle Haggard, The Meters, Neville Brothers, Buddy Holly, Otis Redding, Warren Zevon, Rev. Gary Davis, Bruce Cockburn, and Peter Tosh, to name a few. If your musical tastes range from rock-and-roll, country, R&B, blues, bluegrass, folk, or Americana, you will dig this band. No need to be a Deadhead.
With musicians hailing from the likes of New Riders of the Purple Sage (NRPS), David Nelson Band, Kingfish, Cubensis, Buds of May, Ike Willis Band, Brothers Jam and LOOS3, this band is certain to provide high musical adventure!
Band Members:
Arthur Steinhorn - Drums
Scott Gillan - Bass & Vocals
Justin Pacuska - Guitar & Vocals
Jon Sokol - Guitar & Vocals
website:




facebook:




video:




audio:
About w/guest Lewi Longmire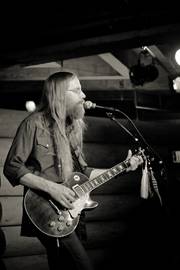 Lewi Longmire has built a reputation as Portland's multi-instrumentalist "go-to guy." In the years since relocating to Portland from Albuquerque, New Mexico, he's been included on shows and recordings by national acts like Michael Hurley, Victoria Williams and Tara Jane O'Neill as well as many of the Northwest's finest bands and songwriters – Fernando, James Low, Little Sue, Casey Neill, Michael Jodell, the Freak Mountain Ramblers and The Peasants included. More recently, though, Longmire has taken all the things learned from working with these fine performers and has been spending his time leading a roots-rock/Americana band of his own, singing his own original songs. The group owes much to the American tradition of good songs played with high energy, deep roots and an unpretentious sense of fun. Their sound finds the connection between the basement feel of The Band, the raspy blue-eyed soul of Joe Cocker, the desert space of Giant Sand, the "without a net" deep space improvisations of the San Francisco Ballrooms, the punk abandon of The Stooges and the quiet contemplation of Johnny Cash playing solo.
Helping the songwriter achieve his sound is the Lewi Longmire Band, a stalwart group of Portland musicians. Bill Rudolph (bass and vocals) played with the Crackpots and Little Sue for years, driving their home crowd into an energetic frenzy with his low tones. Ned Folkerth (drums) has toured the world over with many groups, including the midwest's Pinetop Seven, always laying down the perfect groove to cure whatever ails ya. The band is at times augmented by some of the other fine players in Portland's rich musical family: Bingo a.k.a. Kevin Ritchey (guitar), David Lipkind (harmonica), Jenny Conlee (keyboards), Paul Brainard (steel guitar, trumpet), and Eddie Lakkaidan (percussion).
Longmire can also be found playing in an acoustic duo with Annalisa Tornfelt, a fine fiddler blessed with a beautiful voice and an arresting presence. The two trade off songs , harmonizing and generally amusing each other on stage.
website:
Map & Directions
Tags for this Event:
Music:
Rock
Groove/Jam
Americana
Property > Crystal Hotel
Related content (tags):