Harry Smith's One Kind Favor
A hometown 90th birthday tribute concert to the Anthology of American Folk Music
M.C. Miz Kitty
7 p.m. |
$15 advance, $20 day of show |
21 and over
Buy Tickets
Tickets on sale now!
About Harry Smith's One Kind Favor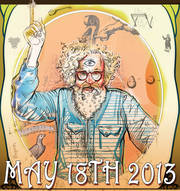 Emcee'd by Miz Kitty and with artistic direction by Joe McMurrian, and starring:
- Ural Thomas
- Richard Cranium and the Phoreheads
- Alice Stewart
- Lewi Longmire
- Tony Furtado
- Joe McMurrian
- James Low
- MidLo
- Mark Lemhouse
- Anne Weiss
- Lauren Sheehan
- W.C Beck and Portland Country Underground
- Darka Dusty
- Thad Beckman
- Whiskey Puppy
- Michael Tevis Hodge Band
- Otis Heat
- Tin Pan Alley cats ...and more!!
This multi-act show features original interpretations of material from Harry Smith's Anthology of American Folk Music. This concert will be held in Harry's place of birth, Portland Oregon, and will serve as a proper tribute to one of the most important creative minds in history.
The Anthology of American Folk Music was put together by Harry Smith for Folkways music and was originally issued in 1952 in three volumes of 2 LPs each, with a total of 84 tracks collected from old records. It is said that this collection played a seminal role in the folk music revival of the late 1950s and early 1960s, influencing and inspiring the generation of Bob Dylan and Joan Baez. Smith stated that he wanted to create a cultural change with music, and he did. His vision represented not a limited traditionalist point of view based on maintaining the status quo and retaining songs the way they were then. Smith believed in the eternal progression and morphing of the songs themselves. The songs were archetype forms to build upon, not hold up behind bars in a museum.
It is like looking back in time, sort of like the Hubble telescope, only we are looking at images from our own human heritage, and perhaps ourselves. a "genetic code" for modern music.
Map & Directions
Tags for this Event:
Property > Mission Theater
Related content (tags):