Relax in style amid the legends
112 N. Tower Ave.
Centralia, WA 98531
Local: (360) 736-5164
Elsewhere: (866) 736-5164
Contact Us
St. Patrick's Day Celebration!
Sassparilla
Fiddlehead
All day; music begins at 4 p.m. |
Free |
All ages welcome
About St. Patrick's Day Celebration!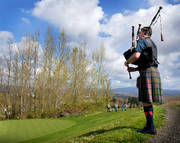 We do so love this particular holiday! At spots across the Pacific Northwest, we'll offer live music, bagpipers, McMenamins Irish Stout, Irish Coffee cocktails, leprechauns, Irish food specials and more.
** SCHEDULE **
4 p.m.: Irish music from Fiddlehead, with Irish dancers
7 p.m.: Sassparilla
About Sassparilla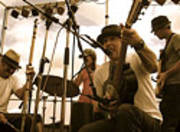 Sassparilla was fermented in the bold-dank regions of Chicago and Pittsburgh and spewed onto the sidewalk of Portland's 24th & Alberta from the mouth of a 5-gallon bucket, with homemade instruments in their clutches: a cigar-box guitar made from Granny's old jewelry box, a washtub bass given a severe beating with a stick, a polka dotted bucket drum kit with rusty break-drum & a hat-box bass. Adding to the mix is a smooth, lulling washboard's rat-tatting - articulated by a man named "Sweet Pea'" and a melodic and blustery fiddle/harmonica duo that dances and interjects like a muscular horn section. With passion, fury, speed, hustle and emotion, the whiskey rains like hellfire, the fingers fly over resonators, and this sextet muster their collective will to never play like cowards.
The result is a one-of-a-kind concoction of homemade, punk-infused, Portland blood-jug holler music.
About Fiddlehead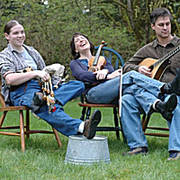 The enduring depth of Celtic music-full of mystery and wild gaiety-has made it a favorite among concert-goers and Festival audiences for years. Fiddlehead, hailed as one of the finest Celtic groups in the Northwest, delivers the best of the tradition. The band features Anthea Lawrence on fiddle and vocals, Audra Poor on Uillean pipes, flute, and whistle, and Lawson Dumbeck on guitar, banjo, bouzouki, and bodhran.
These skilled and seasoned performers know how to engage and entertain, delighting audiences for over nine years. They have been perennial favorites at the Seattle Folklife Festival, featured at the Vancouver, BC, Celtic Fest and repeat performers at the highly-regarded Yachats Celtic Festival. With several CDs to their credit, Fiddlehead enjoys a strong following among music-lovers in the Northwest.
Widely known for their sense of fun on stage, tight, innovative arrangements, and remarkable ability to produce a huge sound for a trio, Fiddlehead delivers songs and tunes using a wide variety of traditional instruments. Their deep knowledge of the music and enthusiasm for performing is one of the hallmarks of this band, and they communicate that joy directly to the audience.
Anthea Lawrence, fiddle and vocals, has been called "one of the rising stars of Northwest Irish music." A former member of the internationally recognized Irish band Slainte, her powerful fiddling and sweet voice have met with critical acclaim. In addition she is a well-respected teacher, giving workshops and teaching at music camps throughout the Western US.
Audra Poor is a young powerhouse on her instrument of choice, the Irish Uillean pipes, as well as a skilled musician on the flute and pennywhistle. She plays all three with finesse and style that is creating quite a buzz on the traditional music scene.
Lawson Dumbeck is a talented multi-instrumentalist. Whether he is finger-picking a sweet air on guitar, providing stirring bouzouki back-up for fiddle tunes, playing a set of polkas on the banjo, or accompanying with complex rhythms on the bodhran, he brings freshness and drive to the music.
Map & Directions
Tags for this Event:
Events:
McMenamins Celebrations
Holidays
Music:
World Music
Americana
Blues
Property > Olympic Club
Related content (tags):