Oregon Humanities and "The Assembly" host
"Serve Your Country"
Think & Drink Series 2013
with
Karl Marlantes
Cameron Smith
--
Wednesday, October 23, 2013
5 p.m. doors; 6:30 show |
Free |
Minor with parent or guardian
About "Serve Your Country"
Karl Marlantes, author of Matterhorn: A Novel of the Vietnam War and What It Is Like To Go To War.
Cameron Smith, director of the Oregon Department of Veterans' Affairs and veteran of three tours in Iraq with the U.S. Marine Corps.
About Think & Drink Series 2013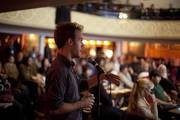 The 2013 Think & Drink series, How to Love America, explores our relationship to the nation we call home. The happy-hour series, which sparks provocative conversations about big ideas, is sponsored by Oregon Humanities and media sponsors Oregon Public Broadcasting and Willamette Week. Oregon Humanities connects Oregonians to ideas that change lives and transform communities. More information about our programs and publications—which include the Conversation Project, Think & Drink, Humanity in Perspective, Idea Lab Summer Institute, Public Program Grants, and Oregon Humanities magazine—can be found at oregonhumanities.org. Oregon Humanities is an independent, nonprofit affiliate of the National Endowment for the Humanities and a partner of the Oregon Cultural Trust.
About --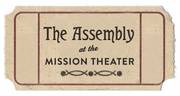 ... The Assembly
The Mission Theater -- the place that first put beers into the hands of Portland theater-goers so many years ago -- has proudly introduced a new line of programming, dubbed "The Assembly."
While retaining its relaxed environment, comfortable seating and matchless sightlines, the Mission is dropping its second-run movies, stepping up its food and beverage offerings, and -- best of all -- evolving the theater's programming dramatically. The core of The Assembly features film screenings with related lectures, interviews, and performances that bring cinema to life. And fans of Mortified, Miz Kitty and live music will be happy to learn that many of the live performances that we've all loved over the years will continue. After all, The Assembly's primary mission -- engaging audiences with events that are both enriching and entertaining -- has few boundaries!
So get your curiosity on and gather with us at The Assembly. There's a lot of world out there.
Map & Directions
Tags for this Event:
Events > History
Property > Mission Theater
Related content (tags):