A truly remarkable destination.
2126 S.W. Halsey St.
Troutdale, OR 97060
Local: (503) 669-8610
Elsewhere: (800) 669-8610
Contact Us
Rob Larkin and Joseph Eid
Friday, February 15, 2013
7 p.m. |
Free |
21 and over
About Rob Larkin and Joseph Eid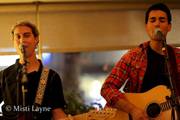 Rob Larkin and Joseph Eid are two award-winning singer/songwriter/guitarists who enjoy touring together as a duo. Their duo shows feature acoustic and electric guitar interplay, soulful harmonies, and a mixed bag of compelling originals and classic covers.
"Two excellent performers! On their own, both Rob Larkin and Joseph Eid are skilled singer-songwriters, but put them together - it's magic! Each took turns performing their solo material, with the other adding guitar licks and harmonies. The selection of covers was brilliant. The crowd ate up the handsome young men and their performance. They are technically proficient with warm, engaging personalities. A real crowd pleaser!"
- Scott Graves, Stagelights Concert Series (Oregon Coast)
Rob Larkin's homespun blend of roots rock, Americana and soul brings you back. With a soulful vocal and guitar style often compared to artists such as Tom Petty & The Heartbreakers, Eric Clapton, John Mayer, and The Band, Rob's music is infectious.
Following his success as lead guitarist and vocalist for east coast and west coast-based bands, Rob Larkin recruited some of the best musicians in LA to help record his much-anticipated album, Dogwood Roots. The result is a rich musical stew, with ingredients from righteous organ to down-home harmonica, and everything in between. As a testament to its timelessness, the title track "Dogwood" won the Americana category of the 2011 Show Me the Music Songwriting contest, and all of the songs receive airplay at radio stations across the US and internationally.
Originally from Boston, Rob makes LA his home base, and regularly tours the west and east coasts with his band The Wayward Ones as well as special collaborators such as Joseph Eid. Other times, Rob does stripped down acoustic sets, to play the music in its honest, bare form. Look for much more to come from Rob Larkin soon, with the worldwide release of his album on Spectra Records in January 2013.
2012 has been a powerful year of touring, writing and recording for critically acclaimed singer-songwriter Joseph Eid. Following the release of Eid's 2012 EP "Best Days," Music Connection Magazine named him one of the "Hot 100 Live Unsigned Artists of 2012."
Joseph Eid's debut album, 'Cardiac Output' defied traditional folk categorization. The five-song EP, recorded in Los Angeles, is an arresting mix of rock, soul, and uplifting, always questioning folk. Critics embraced the debut album: Flavorpill calls the record "an affecting blend of earnest folk tunes" and C.C. Treadway calls it "powerful and inspiring."
After recording the critically acclaimed disc, Eid carried the momentum forward with new music. The result was the performer's first major industry achievement. 'Save You,' written by Eid, was nominated in a major category at the 2010 Hollywood Music In Media Awards. In 2011, Eid recorded 3 new songs for indie label, Cleopatra Records. His original "Pseudo-Love" was released on the label's indie folk compilation album at the beginning of 2012.
Joseph Eid grew up in the suburbs of New York City. Abandoning a career in medicine for his first love of music, Joseph got his start performing at bars around New York City. He packed up his bags and moved to Hollywood in 2006, and has since been a fixture at numerous venues in L.A's burgeoning music scene including The Mint, Hotel Cafe, Molly Malone's, and many more.
Website:




Website:
Map & Directions
Tags for this Event:
Property > Edgefield
Related content (tags):