at Crystal Hotel
303 S.W. 12th Ave.
Portland, OR 97205
Local: (503) 972-2670
Elsewhere: (855) 205-3930
Contact Us
Mimi Naja (of Fruition)
7 p.m. |
Free |
21 and over
About Mimi Naja (of Fruition)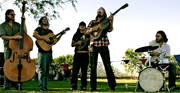 In Nov. 2011 the Portland, Ore.-based quintet Fruition released its third album, It Won't Be Long. The EP layers raw live energy with its traditional folk-Americana strings and harmonies.
It Won't Be Long offers seven original songs written by Fruition's own Jay Cobb Anderson, Kellen Asebroek and Mimi Naja. That trio collaborates on lyrics and harmonies that are as vibrant as they are heart-breaking. Their vocals are supported by Keith Simon on upright bass and Tyler Thompson on drums. Crowd favorites such as "Wastin' Away" and "Bent," both featured on the free EP, showcase the band's ability to effortlessly move from whiskey-tinged ballads of lost love to shoe-stomping traveler anthems that send dance floors into a frenzy. Prior to the release of It Won't Be Long, crowds were already singing along to these seven songs after only hearing them at previous shows, further proving the strength of Fruition's songwriting talent and the devotion of their ever-growing fan base.
It Won't Be Long was recorded by Tyler Thompson at the Woodshed Studio in Enterprise, OR, and mastered by Prince Elwood of Portland Underground Recording. The recording space was donated by the Enterprise Music Alliance. Fans last heard from Fruition with the full-length, self-titled album in 2010, and Hawthorne Hoedown, its debut EP in 2008, and on the 2010 PDX POP NOW compilation.
Fruition originally took shape less than 24 hours after its founding members were introduced in 2008 and has since drawn crowds at more than hundreds of performances in more than a dozen states with a focus on the West coast. Its tours (and detours) are a mix of spontaneous street concerts, rowdy saloon hoedowns and all-night house parties. The band has played nearly every major venue in Portland, as well at the Tractor Tavern in Seattle, Great American Music Hall in San Francisco, the Mystic Theater in Petaluma, as well as the Oregon Brewer's Fest, and headlining the late night stage at Northwest String Summit Friday and Saturday night of 2011. During these shows and festivals, Fruition has had the opportunity to jam with musicians such as Vince Herman and Andy Thorne (Left Over Salmon), Jeff Austin (Yonder Mountain String Band), Zach Gills and Dan Lebowitz (ALO & Jack Johnson), Daniel Stern, and Danny Barnes. Fruition continues to graciously host stages with the likes of their friends they have made along the way including Hot Buttered Rum, Greensky Bluegrass, Elephant Revival, Watertower Bucket Boys, the Quick & Easy Boys, the Clumsy Lovers, Dead Winter Carpenters and more. Members of Fruition have also collaborated on Portland-based recording projects such as The Villains, The BellBoys, and the upcoming LP, Fruition and Brad Parsons, Hole Hearted Fools, to be released and toured in Spring-Summer 2012.
MySpace page:




Website:
Map & Directions
Tags for this Event:
Music > Americana
Property > Crystal Hotel
Related content (tags):