A truly remarkable destination.
2126 S.W. Halsey St.
Troutdale, OR 97060
Local: (503) 669-8610
Elsewhere: (800) 669-8610
Contact Us
Edgefield Oktoberfest Lager
Thundercone Fresh Hop Ale
Limited-Edition Beer Tasting
Thursday, September 12, 2013
5 p.m. 'til the beer is gone! |
Limited-edition beer at happy hour pricing |
21 and over
About Edgefield Oktoberfest Lager
It's that time of year to bid farewell to summer and welcome the coming autumn. What better way to do that than with a festive Oktoberfest Lager. The Edgefield Oktoberfest is a traditional style seasonal lager, brewed in honor of the changing seasons. It pours a beautiful crystal clear copper color with a creamy off-white head. Subtle aromas of sweet bread and toffee greet the senses. The first sip opens up with the crisp, clean flavor of caramelly German malts with a touch of sweetness and a dry subtle spicy citrus aftertaste. A quaffable fall lager to celebrate the annual harvest. Prost!
Malts: Pilsen Malt, Dark Munich, Munich, Melanoidin, Crystal Rye, Crystal 135/165, and Crystal 40
Hops: Tettnanger and Crystal
OG: 1.071 TG: 1.019 ABV: 6.71 IBU: 30 SRM: 10
Buzz Words: Rich, Malty, Crisp
About Thundercone Fresh Hop Ale
Fresh, wet Cascade hops were frantically delivered straight from the hop fields to every McMenamins Brewery, and each batch of Thundercone Fresh Hop Ale was brewed within hours of the hops being picked off of the vine. The resulting beer is an absolute fresh-hop showcase. This beer starts with a smooth foundation and just a slight maltiness. The real star of this show is the fresh Cascade hops used for both flavoring and aroma. Five pounds of fresh Cascades per barrel (400 pounds total for the Edgefield double-batch) were added in three different additions in every batch. These fresh Cascades overwhelm Thundercone Fresh Hop Ale with an earthy, raw-hop decadence that can only come from fresh hops. It is a greener and more unadulterated flavor and aroma than comes from dried hops. The citrusy, flowery and grapefruit notes usually associated with Cascade hops are still present but with an amazing fresh-hop funkiness added into the mix. This beer is so refreshing and hop-filled that you may think you are dreaming but Thundercone Fresh Hop Ale is in reality a short-lived dream come true. Note: The Edgefield traditionally does a 24-hour-straight brew for this ale. The first mash occurred at 5 a.m. on August 28, and the last of the wort was pumped back at 5 a.m. on August 29.
Malts: Two-Row, Caramel Munich 40
Hops: Centennial, Fresh Cascade
OG: 1.058 TG: 1.010 ABV: 6.19% IBU: 56 SRM: 7
Buzz Words: Medium-bodied, Citrusy, Fresh
09/10/2013
About Limited-Edition Beer Tasting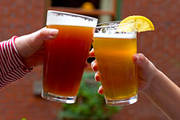 Join us once a month at Edgefield's Distillery Bar to sample a new, small-batch beer, handcrafted by one of our brewers.
Talk to the brewers, ask beery questions, enjoy happy hour pricing all night long on these limited-edition pints and more.
And when the beer is gone, it's gone.
Map & Directions
Tags for this Event:
Events > Beer, Wine, and Spirits
Property > Edgefield
Related content (tags):