Back to school in Bend!
700 N.W. Bond Street
Bend, OR 97703
Local: (541) 382-5174
Elsewhere: (877) 661-4228
Contact Us
Sponsored by Des Chutes Historical Museum and the Oregon Encyclopedia
"Roll on, Columbia: Woody Guthrie and the Columbia River Songs"
Oregon Encyclopedia History Night
at Old St. Francis
7 p.m. |
Free |
All ages welcome
About "Roll on, Columbia: Woody Guthrie and the Columbia River Songs"
Screening of the documentary film by Michael O'Rourke, with an introduction and Q&A by the filmmaker.
Also, musical/history presentation by Bill Murlin, musician and discoverer of Guthrie's "lost" Columbia River Songs
This very special event of music, film and good stories celebrates Woody Guthrie's residency in Oregon, when he crafted 26 compositions, collectively known as the Columbia River songs, including such classics as "Pastures of Plenty" and "Roll on, Columbia." Guthrie came to Portland in 1941 as an employee of the Bonneville Power Administration, hired to write songs promoting the Administration's work of building dams that produced cheap electricity for the masses.
Bill Murlin, a one-time BPA employee, rediscovered Guthrie's "lost" 1941 recordings in the 1980s, while planning for 50th anniversary celebration of the BPA.
Murlin is past president of the Portland Folklore Society. He was an audio-visual specialist for Bonneville Power Administration. In that position, he was responsible for the collection and editing of the Woody Guthrie Columbia River Songs for the 50th anniversary of the Bonneville Dam and Bonneville Power Administration. He graduated from Washington State University with a degree in Radio/TV-Speech and early in his career was a radio and television reporter for various stations in Washington and Oregon. He then moved on to the BPA. Folk music has always been near to his heart, back to his early days in High School in Spokane, where he hung around with members of the Chad Mitchell Trio. He is a fine guitar picker, and has recently been developing his skills with the 5-string banjo.
The Film: Roll on Columbia: Woody Guthrie and the Columbia River Songs is a riveting, 30-minute documentary by Portland filmmaker Michael O'Rourke. O'Rourke's connection to the subject dates back to the 1980s, when Bill Murlin rediscovered Guthrie's 1941 Columbia River recordings. Working with Murlin, O'Rourke produced a radio documentary for Oregon Public Broadcasting, which traced the remarkable story of Guthrie's time in Portland and the recovery many years later of his BPA songs. The program aired on OPB in 1987, presenting the songs for the first time, and was excerpted on NPR's All Things Considered.
In 2008 O'Rourke returned to the project, this time presenting the material as a draft video documentary at the Portland meeting of the Pacific NW History Conference. Since then, O'Rourke has further expanded and re-edited the film.
The documentary includes excerpts from oral history interviews with Bill Murlin, Steve Kahn (Guthrie's BPA manager), famed folklorist Alan Lomax, Woody's wife Mary (who accompanied him to Portland), Elmer Bueller (Woody's BPA driver), Studs Terkel, Judge Gus Solomon (who picked Woody up on the first leg of his hitch-hike back to New York when his BPA work was done), and several people who were part of the song recovery effort. Most of these narrators knew Guthrie personally at the time he wrote the Columbia River songs.
This story unfolds at a time when Guthrie had just achieved national prominence and was approaching the zenith of his career. In the two year's prior to Woody's Portland time he had been the star attraction on two national radio programs, one out of Los Angeles in 1939, and co-host of Alan Lomax's CBS show out of New York in 1940. Guthrie was famously restless and never stuck with anything too long. This tendency plus his rankling under what he considered excessive editorial interference from CBS prompted his resignation from Lomax's program and his return to California. It was there when he first heard of BPA's need for a songwriter to produce material for a planed documentary on the development of the Columbia River hydro-system and the BPA's mission of encouraging public power.
Woody and Mary lived in a modest house near SE 81st and Woodstock during their 1941 Portland stay. Woody would spend his days touring the Columbia with driver Elmer Bueller. He visited Grange halls, talked to farmers, and wrote songs. His BPA manager Steve Kahn required Woody to write something and turn it in each day. He recorded some of these songs in the basement of the BPA building, his voice and guitar captured as a groove cut into an acetate disk by the then-modern recording equipment. Woody's month-long Portland employment resulted in what Guthrie biographer Joe Klein identifies as "the most productive" time of his career, and yielded some of his best known songs including "Roll on Columbia" and "Pastures of Plenty."
The presentation will include some analysis of historical context and its influence on the bizarre twists and turns the story takes, from its genesis during the Roosevelt administration when liberal causes such as public power were ascendant, to the War which interrupted everything, followed by the somewhat more, and subsequently much more conservative Truman and Eisenhower administrations. The 1950s BPA did an about-face on many policy issues.
This was when the songs were lost due to indifference or perhaps even hostility towards the message they carried. Then in the '80s the songs were rediscovered by a one-man crusade for the BPA's 50th anniversary, but at a moment when hydropower was viewed in a new and less-flattering light as the costs of diminished fish runs and endangered species were being tallied. Woody, in his songs, reminds us of the ideals and motivations that led us down this path, and that they are worth preserving even as we change course.
About Oregon Encyclopedia History Night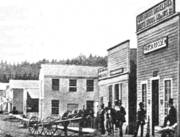 The Oregon Encyclopedia hosts a series of History Nights in collaboration with McMenamins pubs. Come join us for an enlightening evening of history, served up with food and a pint or two of good beer, and find out more about the history and culture of our state from OE authors. Bring your encyclopedia-worthy Oregon stories to share with the OE Editors-in-Chief.
Oregon Encyclopedia website:
Map & Directions
Tags for this Event:
Events > History
Movie Types > All Ages
Music > Americana
Property > Old St. Francis School
Related content (tags):