Sponsored by The Northwest Examiner & The Portland Art Museum
Polluting Paradise: The Formative Years of Willamette River Pollution Abatement, 1920s-1960s
Oregon Encyclopedia History Night
A Presentation by James V. Hillegas-Elting
6 p.m. doors; 7 p.m. presentation |
Free |
Minor with parent or guardian
About Polluting Paradise: The Formative Years of Willamette River Pollution Abatement, 1920s-1960s
Fifty years ago, Portland's KGW-TV aired a gripping documentary – Pollution in Paradise – that succinctly summarized the deplorable condition of Oregon's air and water that had become degraded as a result of more than a century of intensive resource extraction, industrialization, and urbanization. Revered journalist (and soon-to-be governor) Tom McCall produced and narrated the hour-long color film. Appearing during the same era as Edward R. Murrow's pioneering television documentaries and just a few months after Rachel Carson's book Silent Spring, McCall's film helped convince Oregon citizens and legislators that much more could be done to balance environmental and economic considerations. McCall has rightly been lauded for helping to clean up the Willamette River and, more generally, helping to conserve and preserve Oregon's environmental treasures. Though an important milestone in the evolving narrative of Oregonians' relationship to their natural surroundings, McCall's 1962 documentary came after nearly forty years of sustained efforts to abate Willamette River pollution.
This presentation will begin with Pollution in Paradise and progress backwards in time to identify the key moments and give voice to some of the many other people who made important contributions to cleaning-up the Willamette. Just as the river's water quality was not degraded by one person alone, it was not improved solely by one person.
James V. Hillegas-Elting is an historian of the 20th century urban environment in North America. Working River: Willamette River Pollution, 1926-1962, is the title of his thesis completed as part of his Masters of Arts in History degree at Portland State University. He is presently writing a book based on his thesis.
About Oregon Encyclopedia History Night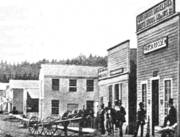 The Oregon Encyclopedia hosts a series of History Nights in collaboration with McMenamins pubs. Come join us for an enlightening evening of history, served up with food and a pint or two of good beer, and find out more about the history and culture of our state from OE authors. Bring your encyclopedia-worthy Oregon stories to share with the OE Editors-in-Chief.
Oregon Encyclopedia website:
Map & Directions
Tags for this Event:
Events > History
Movie Types > All Ages
Property > Mission Theater
Related content (tags):