& Gearhart Hotel
1157 N. Marion Ave.
P.O. Box 2299
Gearhart, OR 97138
Pub: (503) 717-8150
Contact Us
Great Northwest Music Tour
Cody Beebe and The Crooks
7 p.m. |
Free |
All ages welcome
Every month the Great Northwest Music Tour blazes a fresh musical trail, bringing an ever-changing lineup of talent to McMenamins Historic Properties. There is no admission charge to the festivities, and our unique hotels offer food, handcrafted beverages and a cozy place to bed down after the last note is played. Bring your friends and family and jam to a different artist every month.
About Cody Beebe and The Crooks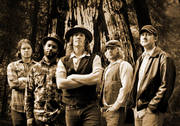 Bound by their collective roots in Central Washington and Washington State University, Cody Beebe & The Crooks began performing together in February of 2009 in Seattle, WA. The band spent the following subsequent three years exploring music together and discovering what CBC was to become. The band calls it Roots Rock; some radio gurus have dubbed it Progressive Americana, and others have said "Steve Earle meets Pink Floyd." Musically, strong elements of gritty blues, classic rock, country, and funk are obvious. More subtle are the splashes of jazz, R&B, and metal. Sometimes soaring above, sometimes smoothly crooning, sometimes twanging, and always deeply emotionally invested, their melodies and lyrics soulfully unite the sound. If their genre can't be easily named, that says nothing of its approachability and timelessness.
Since the release of their debut album, "Friends of the Old Mill," Cody Beebe & The Crooks have been touring vigorously and have played a number festivals and fairs from Washington to New York. Their single "Waiting on You" rose to an amazing #64 nationally (FMQB - Triple A) and they were one of only two self released and independently managed acts in the top 200 on the chart at the time. They have shared the stage with the likes of Buddy Guy, Stevie Nicks, Iron and Wine, Jimmie Vaughan, K.D. Lang, Augustana, Josh Turner, Little River Band, Jason Reeves, Randy Rogers Band, Allen Stone, Andy Griggs, Rooney, Afroman, Ari Hest, Drew Davis Band, This Providence, Tonic, The Clumsy Lovers, Flowmotion, and Elephant Revival.
Facebook Page:




Official Website:
Map & Directions
Tags for this Event:
Music:
Alternative/Indie
Americana
Property > Gearhart Hotel & Sand Trap Pub
Related content (tags):