A truly remarkable destination.
2126 S.W. Halsey St.
Troutdale, OR 97060
Local: (503) 669-8610
Elsewhere: (800) 669-8610
Contact Us
John Shipe
Friday, November 16, 2012
7 p.m. |
Free |
21 and over
About John Shipe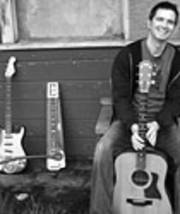 Eugene indie-pop singer and songsmith John Shipe returns with Yellow House, a new 16-track solo album. A stripped-down affair produced by Ehren Ebbage, the LP features a core of mostly acoustic instruments augmented with keyboards, a rhythm section, horns and players from the artist's past electric line-ups (The Blue Rebekahs, The Scapegoats).
Shipe's body of work has been described as cinematic, aggressively embracing any genre required to enhance the colorfully drawn characters in his songs. The synthesis of seasoned songwriting and sonic intrigue works on both the brain and the heart. A veteran writer and performer, Shipe currently has a repertoire of 200-plus original songs and 15 years of touring, radio airplay and nine recording projects behind him. 27 of his tunes have played on 100 independent and commercial radio stations, all without the support of a major record label. He's also shared the bill with Bob Dylan, Blind Melon, Cherry Poppin' Daddies, Cake, Tower of Power, Jerry Joseph, Jimmy Cliff, Derek Trucks, Los Lobos, Tony Furtado and quite a few others.
Shipe is now playing mostly solo shows, which highlight material from Yellow House and add in acoustic versions of older favorites from his previous electric efforts. He is often accompanied by stand-up acoustic bass and a second guitarist/vocalist.
"...remarkable vocalist and songsmith...breaks away from the mold...Without a doubt, he's an interesting figure..." -Performing Songwriter Magazine
website:




MySpace:
Map & Directions
Tags for this Event:
Music:
Alternative/Indie
Singer/Songwriter
Rock
Property > Edgefield
Related content (tags):