McMenamins
---

---
A Place for Family & Friends...
Pagan Jug Band
Hotel Oregon - Paragon Room |
Saturday, October 6, 2012
4:30 p.m.-6:30 |
Free |
All ages welcome
About Pagan Jug Band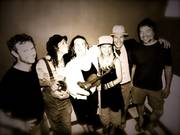 Longtime Portland folk troubadours Chris "Zydeco Skeeter" Miskow and Pat Buckley have revived the band they originally founded back in 1993. The Pagan Jug Band's current incarnation features an all-acoustic lineup of banjo, dobro, accordion, fiddle, guitar, upright bass and percussion, deftly mixing straight-ahead bluegrass, folk and country blues, and Louisiana Zydeco. The material is drawn from a variety of classic country, folk and roots sources, along with a large body of original songs.
"Their songs are packed with drunkenness and sex and the wages of sin, the musicians have the look of men once involved in bloodsport, but they have rather little to do with any organized religion. Organization itself, they have something of a problem with... they perform most every type of music, from bluegrass to Celtic to old-time funk and beyond, with an infectious vigor and memorable form... More bands should be like this." - Willamette Week
website:
Map & Directions
Tags for this Event:
Music > Americana
Property > Hotel Oregon