4045 N.W. Cornelius Pass Rd.
Hillsboro, OR 97124
(503) 640-6174
Contact Us
Limited-Edition Beer Tasting
"We Three Kings"
Death Star
Dark Star CDA
Lazy Days Lager
Wednesday, December 26, 2012
6 p.m. 'til the beer is gone |
Limited-edition beer at happy hour pricing all night |
All ages welcome
About Limited-Edition Beer Tasting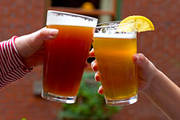 December is the time of year we journey to the cellar and feature our finest of 2012:
Death Star
aged on
White Owl-soaked Oak
What happens when the brewers and distillers unite to harness the energy of the Dark Star for their own sinister ends? Behold the Death Star. Built from 1000 pounds of grain and capable of destroying palates in a single blast, this evil ale has an enormous malt body with notes of candied raisins and brandied figs. Its gigantic body allows it to focus beams of vibrant hoppiness so powerful your taste buds will quake with pleasure. So raise your glass and yield to the dark side!
Malts: Premium Two Row, Optic Pale, Munich, Crystal 75L & 120L, Baird's Black, Carafa II, Flaked Barley
Hops: Centennial, Simcoe
OG: 1.21 TG: 1.035 ABV: 11.09 IBU: 111 SRM: 30
Dark Star
Lovers of hop, your star has risen. Dark Star's solid malt backbone is laced with black malts for unmatched robustness and complexity, allowing it to shoulder a bounty of Northwest hops with unparalleled grace. Big, bold, and brimming with flavor, this is our definition of Cascadian Dark. This special release keg has been cold-conditioned for 6 months.
Malts: 2-Row Malt, 75L Crystal Malt, 120L Crystal Malt, Carafa Special II
Hops: Centennial, Simcoe
OG: 1.083 TG: 1.017 ABV: 8.51 IBU: 112 SRM: 30
Lazy Days Lager
This crisp, light-bodied lager will keep you hydrated during the hot weather when the lipchicks of the brain overheat. The perfect combination of malt and hops provides a smooth drinking beer with a lingering dryness. Survive to imbibe!
Malts: Superior Pilsen, CaraVienna, Wheat
Hops: Sterling
OG: 1.043 TG: 1.008 ABV: 4.50 IBU: 30 SRM: 4
Map & Directions
Tags for this Event:
Events > Beer, Wine, and Spirits
Property > Cornelius Pass Roadhouse
Related content (tags):