Tuesday, November 13, 2012
Pre-Broadcast screening of OPB's Oregon Experience

"Rajneeshpuram"

"The extraordinary and unsettling story of Bhagwan Shree Rajneesh, his religious community and the people of Wasco County"

5:30 p.m. doors; 6:30 p.m. screening

All ages welcome

Frre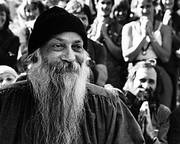 "Rajneeshpuram"
In the early 1980s, the disciples of an Indian spiritual leader precipitated a storm of angry conflict in Central Oregon. Even today, some 30 years later, any discussion of "Bhagwan Shree Rajneesh" can quickly ignite the emotions of those who found themselves in the thick of it, the people of Wasco and Jefferson counties.
Bhagwan's disciples had come from all over the world to build a city on what had been the 100-square-mile Big Muddy Ranch. They called it Rajneeshpuram.
The new one-hour episode of Oregon Experience, "Rajneeshpuram," explores the intense 4.5-year lifespan of the Rajneesh community. The conflicts between the Rajneeshees and the local residents began early and worsened steadily. Not long after they first arrived, the "sannyasins," as Bhagwan's people called themselves, were sometimes rude and confrontational toward their neighbors. Soon after they took over the nearby town of Antelope. Later the leaders of the commune even tried to skew a county election in their favor. And near the end of their time in Oregon some residents of the commune were charged with poisoning hundreds of people in The Dalles along with a host of other crimes.
The conflicts began early and they worsened steadily. The two sides ultimately came to view each other in stark, black and white terms. This in spite of the fact that the vast majority of the sannyasins had little or nothing to do with the escalating conflicts.
"Rajneeshpuram" explores the view from both within and outside the commune. Local officials from Antelope and The Dalles tell how the Rajneeshees, as they began to encounter obstacles to their city-building plans, grew ever-more aggressive. And several former commune members, who remain active sannyasins today, appear in the program to describe the seldom-heard view from the inside.
Introductions and post-screening Q&A by Nadine Jelsing and Eric Cain, co-producers and co-writers of the film.
OPB website: