Sunday, November 11, 2012
Siren Nation Arts and Crafts Show

Arts and Crafts sellers

Free workshops

11 a.m. to 5 p.m.

All ages welcome

Free
WORKSHOPS:
SESSION 1:
11am – 12:15
Martha Jordan Room:
Yoga for Beginners
Instructor: Cindy Lewis
Mina Parsons Room:
Laika Career Retrospective and Master Class
Instructor:
DIY Library:
Art School PDX Workshops: Recycled Book/Journal Making
Instructors: Dianna Fontes
SESSION TWO:
12:30pm-1:45pm
Martha Jordan Room:
Poetry Composition
Instructor: Tai Carmen
Facebook Event: https://www.facebook.com/events/156972267777059/
Mina Parsons Room:
Sugar Crafts
Instructor: Christine McKernan
DIY Library:
Art School PDX Workshops: Found Object Printmaking
Instructors: Joy Leising, Dianna Fontes
SESSION THREE:
2pm-4pm
Martha Jordan Room:
Women In Comedy (Composition)
Instructors: Whitney Streed, Jessie McCoy and Katie Brien
Facebook Event: https://www.facebook.com/events/202864079846375/
Mina Parsons Room:
Etsy 101: Keys to Selling Online
Instructor: Christine Claringbold
Facebook Event: https://www.facebook.com/events/409583345764104/
DIY Library:
Art School PDX Workshops: Weaving
Instructors:Joy Leising, Dianna Fontes
SESSION FOUR:
4pm-5:15pm
Martha Jordan Room:
T-Shirt Restyle Workshop
Instructor: Skye Blue and Erin Gilbert
Mina Parsons Room:
PDX PLA (Portland Lifestyle Advising) Healthy LifestyleTBA
Instructor: Casey Cardoso
DIY Library:
Art School PDX Workshops: Postcard Project
Instructors: Dianna Fontes
About The Workshops
Yoga for Beginners
To start the day, we are stretching, breathing, and learning some basic yoga postures that channel energy and open up your senses. Cindy Lewis is a RYT (Registered Yoga Teacher). When asked about yoga, she said, "yoga is my passion and sharing it with the community is a joy. I began my yoga journey in the 80′s. My classes are full of humor, inspiration and play." You can find Cindy Lewis on facebook at Yoga with Cindy web site: http://www.myyogaspring.com/ Blog: http://myyogaspring.blogspot.com/
Presenters: Cindy Lewis
Laika Career Retrospective and Master Class
Are you fascinated with Laika? Are you curious about what goes in to each animated piece? What the process is from start to finish? This is a Q&A Session with Laika production managers who can tell you all about the artistic process, story-boards, and directive elements of Laika films.
Presenters: surprise!
Art(s)cool PDX Workshops:
Recycled Book/Journal Making. Learn the art of making several types of hand bound books. Use found objects, recycled materials, and more to customize your books. Bring personal items like photos, ticket stubs, maps and other scrap booking items to personalize your book.
Found Object Printmaking. Printmaking is easy when you find interesting shapes, patterns and textures in found objects. Use your custom made papers to decorate and personalize your books.
Weaving. Use the art of weaving to create and decorate! Make coasters, book covers, earrings and coffee cozies using new weaving techniques.
Postcard Project. Grab a blank post card and address it to yourself or someone you know then drop it in our box of addressed postcards. Select a postcard addressed to a stranger from the box and decorate it using various materials, found object printmaking or with your new weaving skills in the art room. Each postcard is already posted and will be mailed out over the next year as part of our postcard project. Some day, when you least expect it, your postcard will arrive decorated by an unknown artist just ready to brighten your day.
presenter: Dianna Fontes


Poetry Composition
This composition workshop will be a free write and critical response session wherein you are encouraged to bring something you are working on, or something freshly started. There are no rules here, no boundaries to the breath or scope of language, only thoughtful reactions and receptive listeners.
Presented by: Tai Carmen
Sugar Crafts
Sure, candy is fun all on its own, but it can also be creative and artistic! Make some amazing and fun creations and learn how to assemble using edible adhesives. Then eat it all up!
A look at women in Stand-up comedy in Portland Oregon. Local comedians Whitney Streed, Jessie McCoy and Katie Brien will talk about the sometimes therapuetic, usually rewarding and always terrifying benefits of stand-up comedy as a means to deal with life through laughter.
Participants will hear perspectives on stand-up comedy for women, the local comedy scene and participate in hands-on joke writing, performing and much more!
presenter: Katie Brien, Whitney Streed, Jessie McCoy
Etsy 101: Keys to Selling Online
Go on a guided tour of Etsy.com with certified Etsy Educator Christine Claringbold, graduate of Etsy's June 2012 Educator training. Christine will discuss what you need to set up an Etsy shop, how to get started making your first sales, where to go when you need help, and the four keys to Etsy success. Don't forget to bring questions about selling your work online.
Presented by: Christine Claringbold
T-Shirt Restyle Workshop
Ever wonder what to do with extra large band t-shirts or your families' worn out tops? Turn your oversized t-shirts into a work of art! In this workshop we will deconstruct old t-shirts and restyle them with an amazing new look. Bring your own t-shirt or use one of ours.
Presented by: Skye Blue and Erin Gilbert
PDX PLA (Portland Lifestyle Advising) Healthy Lifestyle Workshop
Has a doctor advised you to make lifestyle changes? DO you feel stuck or stagnant with where you want your life to be or to look like?
We are offering a workshop based in understanding balance in health and wellness concepts for a balanced and more meaningful life. We will explore the difference between illness and wellness and introduce steps to get your life in the direction you want it to be heading in.
Presented by: Casey Cardoso
CRAFTS:
2012 Vendors
5th Season
www.5thseasondesigns.com
100% handmade upcycled handbag using reclaimed coffee burlap sacks and discarded clothing of natural fiber. The mission of 5th Season is to inspire the use of consumer goods for yet another "season" - refashioned, repurposed and transformed into something new and innovative.
Addie Pearl Jewelry Design
www.addiepearl.etsy.com
Stunning, colorful felt jewelry. Simple and complex designs in a wide selection of pins, rings, barrettes, pendants and keychains
Allegra B Designs
www.AllegraB.etsy.com
Handmade tote bags, decorative throw pillows, pot holders and iron-on patches
Artwork by Kendra Binney
www.kendra-binney.com
www.kendrabinney.etsy.com
Limited edition "art panels" which are reproductions mounted on wood panels and covered in layers of plastic resin. Also featured will be pendants, shadow boxes, magnets, cards and other small items from the artist's original artwork.
bama + ry
www.bamary.etsy.com
Inspiring and customized hand-cut and hand-stamped copper and nickel necklaces and earrings with a little brass thrown in.
Betty Turbo
bettyturbo.etsy.com
Art prints, greeting cards, plush & wearable items made from fabric printed with the artist's original illustrations
BoneWerx
www.Bonehaus.com
Mixed-media artwork and jewelry made with vintage beer cans, bottle caps and pull tabs.
Buttonlandia
www.buttonlandia.etsy.com
Rad goodies: including greeting cards, pocket mirrors, button magnets andfelt, hand-sewn plushes.
Carol Opie
www.carolopie.com
Handmade earthenware ceramics individually thrown on the wheel or hand-built using bright colors and whimsical animals.
Christine Shelton
teeniebirdie.etsy.com
thisfineday.etsy.com
Wood tea lights, Portland engraved coasters, etched pilsner and pint glasses with Oregon logo, simple flower studs and silver and gem earrings
Di Pinsonault Originals
www.dipinsonaultoriginals.com
Art - small paintings, prints and notecards; ceramic dragon scuplture
Dylanbug Designs
dylanbugdesigns.blogspot.com
Papercrafts, altered art, upcycled art, art cards, treasure boxes, gift items, handmade crafting embellishments, gift tags, ornaments, gift boxes, and gift bags
EmmaRoo Designs
www.emmaroodesigns.etsy.com
Children's clothing and accessories: including wrap skirts, art smocks, hats, bibs and changing pads. Each item is hand-cut and sewn, down to the handmade bias tape. All of the fabrics we use are not only visually appealing, but also comfortable and practical (everything is washable!). All of our materials are free of pvc, bpa and lead.
Entangled Roots
www.entangledroots.com
Screen printed patches, as well as prints on paper (including intaglio, relief, and letterpress), buttons, and cards
Erin McLeod
www.erinmacleod.com
One size fits all snap around skirts that are extremely flattering to the behind.
Frawn
www.frawn.etsy.com
Earrings, necklaces, cuff links, and belt buckles all made of laser cut wood. Some are painted but all are sealed and finished in Portland specific designs as well as bold color blocking designs.
HipNest
www.hipnest.com
Fused & cast glass. Ice Cube Magnets. Crazy Daisy Magnets and Ornaments, Classy Glass Coasters and Peek-a-boo Tiles
House of Moss
www.etsy.com/shop/HouseOfMoss
House of Moss is a little spot in the forest where you can find natural felted wool home decor, gifts, and children's items: wool acorns, felted amanita mushrooms, embroidered star moss, wool pebbles, tiny felt terrariums, animal sculptures, wool nests, and other natural curiosities.
Jennifer Campbell Design
www.jennifercampbelldesign.com
Found object jewelry - watch and clock parts, and Steampunk style; Assemblage art in the Steampunk genre; Vintage tin pendants
Katt Sarro
www.kattsplat.com
"Dwink!" ceramic cups; ceramic handmade planters; and upcycled books
LeaK Arts
www.leakarts.com
Original Art (paintings & art dolls), magnets, greeting card sets, coloring pages
lil e creations
lilecreations.etsy.com
Wings, stick horses, sockmonkeys, silly animal hats, tiny diorama viewfinders
Lisa Johnston-Smith
www.lisajohnstonsmith.com
Lovely, functional handmade ceramic pieces glazed with muted contemporary tones, incorporating whimsical decorations from nature that charm or make you itch.
Littleput
Littleputshop.com
Photographs hung from ribbon or mounted on blocks; Original poster designs
MairWear
www.mairwear.etsy.com
Handmade and self designed crocheted hats and hairclips
Margaret Meyer
www.margaretmeyer.etsy.com
Original and imaginative art, prints, cards and dolls
MeMe Cosmetics
www.memecosmetics.net
Hair shampoo & conditioner, therapeutic body lotions (made with herbal infusions + essential oils), body butter, lip balm, cosmetics and other body care products.
Ohlnu
www.ohlnu.etsy.com
Ohlnu is a handcrafted line of original bags and accessories that are influenced by the natural aspects of the Northwest, Southwest, and Midwestern regions of North America. Ohlnu products are made with materials such as wool (primarily Pendleton Wool), leather, cotton, raw gemstones, and other natural resources.
P2 Creations
Original art magnets, note cards created with original photography, mirrors with collage frames
Paragraph Cove
www.paragraphcove.etsy.com
Stationery and paper goods created with discarded paper and found objects. "Memoir" line of cards features excerpts from the artist's visual journals and sketchbooks.
Rachel Rice
Cosmic American art & accessories including conceptual dream catchers
sarahhoo
www.sarahhoo.com
children's toys, jewelry, and home décor (dish cloths and potholders)
Scrumptious Suds
www.scrumptioussuds.com
Inspired by favorite desert and cocktail recipes and almost entirely crafted from natural and local ingredients, these soaps and other body products blend the best essential oils, seeds, citrus peels, and spices to promote a healthy diet for those hungry for hygiene!
Seaworthy
www.seaworthypdx.com
Handmade, mixed-metal jewelry, using a variety of forging and patina processes, that are feminine but with the feel of a vintage keepsake.
Sewstainable
www.etsy.com/shop/sewstainable
Handmade garments and accessories using retro inspiration and vintage materials
SHE-SHE
sheshepdx.com
Locally-made screen-printed tops for women as well as some dresses and skirts
Thorn&Wynn
thornandwynndesigns.etsy.com
Thorn&Wynn is a jewelry line focused on geometric shapes, beautiful stones, flattering colors and simple, wearable design. Following the ethos: less is more, neutral colors let natural beauty shine, and a little asymmetrical twist never hurt anybody.
UrbanScapes
Portland UrbanScapes Prints are colorful, illustrative Portland cityscapes. The originals are multi-layered collages in resin that become 3-dimensional in feel as each layer creates a larger depth of field. The mixed media include photography, inks, pencil, oil pastel, acrylic paint, metallic papers, etc.
WeaverKate
www.WeaverKate.com
WeaverKate weaves cotton hand towels with a pop of color and eye-catching scarves, and creates pins and pendants featuring handwoven fabric or original mixed media art. Also offered are woven mug rugs (coasters) using cotton and recycled plastic bags, and handwoven Lavender sachets.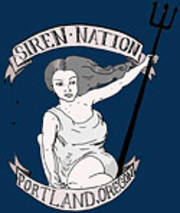 Siren Nation Arts and Crafts Show
This event is part of The Siren Nation Women's Music and Arts Festival, which takes place November 4-7. Siren Nation's mission is to inspire and empower women of all ages to create their own art and to highlight the many achievements of women in the arts.
The gym hosts 40 art and craft sellers from the Pacific Northwest, while free workshops take place in the Mina Parsons Room and the Martha Jordan Room.
For more information please visit www.sirennation.com