Thursday, November 8, 2012
8 p.m.

21 and over after 10 p.m.

Free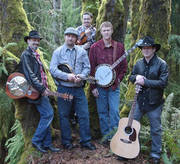 The Oly Mountain Boys
The Oly Mountain Boys began in 2008, playing the traditional music of Bill Monroe and the Stanley Brothers with reckless abandon. This music is still the backbone of the band's repertoire. Over the last two-plus years, however, they have incorporated a strong core of original bluegrass material, some of a traditional bent and others drawing liberally from folk-rock and Americana. Either way, the band combines bluegrass picking prowess and tight, three-part vocal harmonies, bringing a youthful vitality to one of America's original musical forms. The Oly Mountain Boys have performed everywhere from Pumpkin Fests and Farmers Markets, weddings and bluegrass festivals, to the smoke-filled, country-fried Grand Oly Opry, the Woodstock-styled Olympia Barter Faire, and many crowded, late-night bars. The band believes that the appeal of Bill Monroe and his music knows no bounds.
The Oly Mountain Boys released their first CD, The Oly Mountain Boys, in July 2010. The CD contains 12 songs, including seven original compositions, four traditional numbers, and a bluegrass adaptation of Neil Young's "Sugar Mountain."
CHRIS RUTLEDGE plays guitar and provides vocals. Although Chris hails from a blues and rock tradition, he has taken up bluegrass with a vengeance in the Oly Mountain Boys. Chris is from Shelton, WA and currently resides in Olympia.
TYE MENSER, on banjo and lead vocals, was born in Southern California but likes to point out (for bluegrass credibility) that his parents and entire extended family are from Western Kentucky. Tye learned to play bluegrass in Fairbanks, Alaska nearly a decade ago. Tye currently resides in Olympia and also provides electric banjo for the outlaw-country band Rodeo Kill.
DEREK McSWAIN grew up in Olympia, studied mandolin for a number of years, but only recently joined performing bands, formerly playing with the Bluegrass Renegades and now the Oly Mountain Boys. Derek's smooth, versatile, and improvisational mandolin style is one of the linchpins of the band's sound. Derek resides in Lacey, WA and also sings baritone harmonies.
PHIL POST, on bass, Dobro, and vocals, is the only member with bona fide Southern heritage, growing up in the Ozark Mountains in Missouri. Phil's distinctive high tenor singing gives the band its "high, lonesome" edge. Phil's musical journey began singing for a Springfield, MO church choir. He moved to the Pacific Northwest many years ago, studying jazz and composition, and has played number of instruments in a variety of regional bands through the years, currently bass with the Erev Ravs (klezmer) and pedal-steel with the Tilted Stilts (alt-country). Phil resides in Olympia.
JOSH GRICE was raised near Milwaukee, WI and moved to Olympia to work and stare at the mountains. He stumbled into a bluegrass jam in early 2009 and soon wound up a member of the Oly Mountain Boys. His bluegrass inspirations began with his dad's bluegrass treasury albums and extend to modern pickers like Bela Fleck and Chris Thile, and fiddlers like Jason Carter and Casey Driessen. He keeps his fingers limber by playing "violin" with the Olympia Symphony Orchestra.
Website: