Friday, October 5, 2012
7:30 p.m. doors; 8 p.m. show

21 and over

$5 per person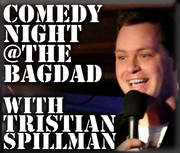 Stag Sketch Comedy
Featuring members of Master Pancake Theater, Mascot Wedding Productions, and The Andrew and Matt show, Stag Comedy presents a seamless mix of live and video sketches that are sure to bring a smile to your face and frowns to the faces of your many, many enemies.
Todd Armstrong
Stephanie Purtle
Xander Deveaux
Sean Ongley
Created by Joe Parsons, the current cast consists of Joe, Mac Blake, David Jara, Ximena Estrada, Dave Youmans, and Andrew Rosas.
Stag Comedy performs regularly around Austin, TX and have performed at Austin Sketch Fest, ImprovBoston's Geek Week, Frontera Fest, the Milwaukee Comedy Festival, and will perform at this year's Out of Bounds Festival
Visit stagcomedy.com for more details.