Sunday, November 11, 2012
Daniel Rodriguez (of Elephant Revival)

Shook Twins

The Sale

7 p.m.

21 and over

$10 advance, $10 day of show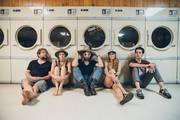 Shook Twins
"A unique, personal music that lights up the stage with its joy and enthusiasm." Mason Jennings
Identical twins Laurie Shook (vocals, banjo, percussion and beatboxing) and Katelyn Shook (vocals, guitar and mandolin), are two thirds of the quirky folk trio, Shook Twins. Rounding out the trio, often referred to as the "third twin," is Kyle Volkman on bass. The Shook Twins intertwine gorgeous "twin" harmonies with an eclectic and eccentric blend of folk, roots, pop and fun. Jeff Rosenberg of the Willamette Week says, "Their songs are witty and well-built, the performances poised, the production adventurous. Recently transplanted to Portland, Shook Twins are the most exciting local folk act I've heard in ages. Strike that word 'local' and the sentiment still stands."
;
Originally from Sandpoint Idaho, the twins have been making music together since childhood. Playful, warm and lighthearted, a Shook Twins show percolates with the twin's infectious radiant energy. Pristine vocals layered on top of traditional stringed folk instruments, create lovely aural imagery of two women with one sound.
But don't be fooled. The Shook Twins are not your average folk trio. They have a few tricks up their sleeves. Laurie may drop a beat-box in the middle of a song, while Katelyn plays the guitar, glockenspiel, mandolin, and sings into a telephone and bocks like a chicken. Laurie plays wah-wah Banjo and loops various melodies and beats to make it sound like more than just two identical twin sisters. Meanwhile Kyle lays down the groove adding resonant bass lines to the mix. It's a refreshing romp filled with unexpected surprises.
This past year the Shook Twins have been touring behind their sophomore CD Window, released in April 2011, taking them throughout much of the Northwest. Along the way, The Shook Twins have shared the stage with artists including Ryan Adams, Mason Jennings, Laura Veirs, Carolina Chocolate Drops, The Fruit Bats, Michelle Shocked, JJ Gray and MoFro, Crooked Still, Jason Webley, The Head and The Heart and many more.
(band photo by Patrick Orton)
website:




Facebook page: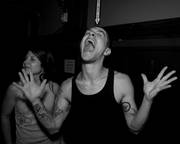 The Sale
The Sale is the brainchild of Portland, OR based singer/songwriters Bre Paletta and Justin Bennett, two independent thinkers who fell in love and started making beautiful music about the human experience.
With poignant, piercing honesty and bittersweet reflection, the pair's songs speak to the joy and pains of everyday life that can't be captured in everyday expression. Abundant and pressing at the seams with vivid metaphor and insightful wisdom, they let you see who they are and give you a glimpse inside yourself.
Rounding out these two is a swoon-worthy rhythm section. Devoted friends, gifted musicians and assets to the dynamic sound, drummer Chris Lay and bassist Michael Dougherty's dual intuition and chemistry bring drive, nuance and that extra kick in the pants. Long-time cohort, multi-instrumentalist Todd Bayles also accompanies on occasion as well as a rotating cast of players on an array of different instruments.
With musical roots in the staples of the 70s, 80s and 90s, The Sale draws influence from innovative heroes like Fleetwood Mac, Michael Jackson, Sade, and Bob Marley. Their respective formative years were a flurry of melodies and old vinyl, having been blessed with musical or music-loving parents.
These passionate artists bring energy and intensity to every performance to captivate listeners and evoke powerful emotion. Quickly becoming a mainstay in Portland's diverse music scene, The Sale is on a mission to heal the soul through music and community.