Thursday, November 1, 2012
Ben Union

Novosti

Symmetry/Symmetry

8:30 p.m.

21 and over

Free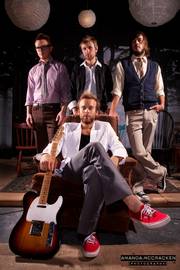 Ben Union
A simple jam-session at Union Station on a Friday exploded overnight to become more than a name and more than simply music. The Union sparked what has gone from a grassroots campaign to a creative movement, with the Union gospel spreading like the fire of political revolution. With a live show that rivals IMAX and a militant following, this is a group to be reckoned with. Join the Union!
Facebook:




Website:

Symmetry/Symmetry
A amalgamation of local virtuous, independently reputed musicians in their own right, Symmetry/Symmetry stands unified as a dynamic collaborative. Forged in 2006 by the combined visions of Daniel Jones and Joel Uram, Symmetry/Symmetry found its beginnings in Portland, Oregon. Later joined by the sensationally gifted drummer, Andrew Quackenbush, the band discovered its unique cadence and released an EP titled Love Breaks Light. The album garnered local accolades, spurring their efforts forward. In January of 2010 savvy bassist, Mark Cleaver, joined their ranks deepening the tonal diversity available to them. The band toured venues in Portland gradually etching out a fresh, robust, bombastic soundscape uniquely their own. Cultivating a diversified yet unified tone, they've delighted crowds in their melodic wake.
In August of 2010, Symmetry/Symmetry reached bold new heights by the debut of their album Have Cake. Cultivating introspective lyrics, ascending melodies, and a tasteful juxtaposition of rick vocals and crisp, fearlessly executed instrumentation, they fiercely stretch beyond the cliché of mere angst-driven rock. With un-abrasive clarity, their songs entreat the listener to abstain from mediocrity of thought and reject the ratification of emotion. Subsequent to the album's release, they toured fifteen stops along the west coast as they bravely conveyed this underlying message of percolating optimism in the midst of hopeless circumstance.
The band's intense bond with on another is evident in an effortless synergy that inevitably results in the ravishing harmonies and sheer rhapsody they induce. With a penchant of the unanticipated, Symmetry/Symmetry leverages dramatically synchronized pauses followed by the occasional Chinese-fire-drill instrumental and lively antics, each enthralling to the listener. Consistently piercing new musical terrain, Symmetry/Symmetry openly experiments onstage, skillfully blending raw electronica with fiercely harmonious ballads and a frenetic-physical presence. Irrespective of venue or demographic, Symmetry/Symmetry invites every audience member to let down their guard and revel with the band in their contagious and unabated whimsy.
Written by Michael Barko.
Bandcamp:




Facebook:




Official Blog for Symmetry/Symmetry:




Myspace: