Saturday, November 3, 2012
Pat Kearns (of Blue Skies for Black Hearts)

Bart Davenport

Plus Extra Saturday Goodies

7 p.m.

21 and over

Free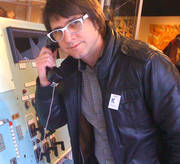 Pat Kearns (of Blue Skies for Black Hearts)
As lead singer and songwriter of Blue Skies For Black Hearts, Pat Kearns has become known for producing exquisite pop gems that are surely smash hits in an alternate universe. The Portland Mercury described 2011's Embracing the Modern Age as "one of the most significant contributions to the (power pop) genre in recent memory..." But don't be mistaken; the songs fall far closer to Big Star's version of power pop than Green Day's. Kearns delivers most of his impact via clever turns of phrase paired with long, but instantly memorable, melodies.
Over the past year, Kearns has been occasionally shedding his band in order to play solo, often playing unreleased material that may or may not be on future Blue Skies' records. Some of these songs were recently "leaked" through an EP called Great White Hope, which has been spreading through the PDX pop underground. He'll be digging songs out of this basket as well as pulling from Blue Skies six album catalog.
Website:




Soundcloud:
Plus Extra Saturday Goodies
You like beer, right? And free food? And getting to know, you know, cool people? Well every Saturday night at Al's Den, we'll have generous samples of a special, limited-release beer from the Crystal Ballroom Brewery, plus free passed appetizers from Zeus Café (we ain't just talkin' tater tots here, either) and a live interview with the band. Come check it out -the food & drink are divine, the crowd is friendly, and the energy is buzzing.