Sunday, October 28, 2012
Pat Kearns (of Blue Skies for Black Hearts)

Future Historians

7 p.m.

21 and over

Free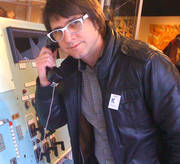 Pat Kearns (of Blue Skies for Black Hearts)
As lead singer and songwriter of Blue Skies For Black Hearts, Pat Kearns has become known for producing exquisite pop gems that are surely smash hits in an alternate universe. The Portland Mercury described 2011's Embracing the Modern Age as "one of the most significant contributions to the (power pop) genre in recent memory..." But don't be mistaken; the songs fall far closer to Big Star's version of power pop than Green Day's. Kearns delivers most of his impact via clever turns of phrase paired with long, but instantly memorable, melodies.
Over the past year, Kearns has been occasionally shedding his band in order to play solo, often playing unreleased material that may or may not be on future Blue Skies' records. Some of these songs were recently "leaked" through an EP called Great White Hope, which has been spreading through the PDX pop underground. He'll be digging songs out of this basket as well as pulling from Blue Skies six album catalog.
Website:




Soundcloud: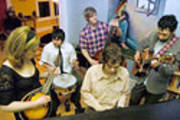 Future Historians
"There's a fine line between satisfyingly simple and overly elementary. Future Historians walk it. With the exception of the peppy acoustic track "The Martyr," all the songs on the band's self-titled debut EP blend slow, easy sequences of notes into straightforward folk-pop harmonies.
The EP-a vinyl 10-inch that comes paired with a CD-finds flair, though, in frontman Dave Shur's dark, pastoral lyrics. He wraps his words around the simple hooks to conjure images of windy cliffs, burdensome friendships and fatal mistakes, and the playful interaction between Shur's voice and the band's undemanding orchestration-on tracks that average just over two minutes apiece-keeps the record easy on the ears. The unimposing arrangements of "Lost A Bet" are spiced up by Shur's coy croon: "I don't make those same mistakes anymore/ One foot on the floor and one eye on the door/ I'll get it next week for sure."
Shur gets help from the EP's fine mastering, which is as crisp and clean as any local release in recent memory. When listening to lead track "Dogs With Teeth" through headphones, the flutter of mandolin sounds-and feels-exactly like a dragonfly buzzing in your left ear. I flinched on the first listen." - Willamette Week