Friday, October 26, 2012
7 p.m.

All ages welcome

Free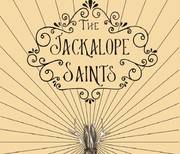 Jackalope Saints
Based in Portland, Ore., The Jackalope Saints play string-band music rooted in folk and bluegrass traditions. Adding a twist of soul and stirring the pot, a new sound surfaces: Navy Bluegrass River Rock. It is the howling sound of wind in the trees, cowboys at a fire and Jackalopes echoing back on a warm desert night. Saints songs come from the whimsical mind of singer-songwriter Clinton Herrick, whose playful and piercing lyrics recall half-successful relationships and reveal constant curiosity and a desire to create magic from the mundane. Clinton's rhythm guitar and Jay Parshall's bass anchor melodies from Heather Roberts' soulful fiddle and John Chap's licks on anything from mandolin and banjo to slide-guitar. They are recently joined by Lucas Welliver, illustrious fifth Saint and master of keys and accordion.
The Saints' project is evolutionary. Strong and varied backgrounds give way to nearly 100 years of collective musical experience. The Saints strive to make music that audiences enjoy as much as the Saints themselves enjoy playing it. Dedication and commitment to collaboration are the heart of each note and the genuine enthusiasm for making music is apparent in every performance. Saints shows can be seen all over the northwest, specifically in Portland and its environs.
Our musical influences include: Sean Hayes, Paul Simon, The Wood Brothers, Langhorne Slim, Jim Henson and John Hartford.