Thursday, October 18, 2012
7 p.m.

All ages welcome

Free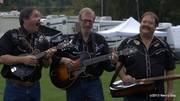 Steer Crazy
Steer Crazy brings a fun mix of Western Swing music of the 30s and 40s, classic harmonies of the singing cowboys, and a few surprise hits of the more recent past. If you're not dancin', at least you're toe will be tappin'.
Western Swing music originated in the late 1920s and attracted huge crowds to dance halls and clubs of the 1930s and 1940s. An outgrowth of the rise of Jazz, the music features a hot swing rhythm and added a "blues" element to traditional western music. The singing cowboy was popularized in movies of the 30s and 40s and made famous by groups like the Sons Of The Pioneers and Riders In The Sky. The music features tight vocal harmonies and poetic lyrics portraying the beauty of the American west.
With a core lineup of Tim Dawdy on Dobro and steel guitar, Glenn Dennison on mandolin, and Rick King on guitar, along with frequent special guests, the group features tight three part vocal harmonies along with tasteful instrumental breaks. Their show is sure to bring a smile and perhaps an occasional tear.
The group performs regularly around the Portland area including appearances at: River City Music Festival, Wintergrass, OBA Pickers Fest, Centrum Voiceworks in Port Townsend, Folklife Festival in Seattle, and The Western Music Association Annual Gathering.