Monday, October 8, 2012
94/7 presents

94/7 "I Saw Them When"

Youngblood Hawke

Aan

(show postponed to November 20!)

8 p.m. doors, 9 p.m. show

All ages welcome

$0.94 advance, $0.94 day of show
Please note: This event has been postponed to Tuesday, November 20. Tickets to the original October 8 show will be honored.
Youngblood Hawke
Inspired by the Herman Wouk novel of the same name, Youngblood Hawke was born out of late night creative musings between longtime friends Sam Martin and Simon Katz. Exhausted by two years of touring with their former band and the general turbulence that comes with music industry success, Martin and Katz looked for a more simple creative outlet where they could write and share music with friends and family without commercial pressures. Katz's longtime friend Tasso Smith moved to Los Angeles from Texas to join the band when he heard the first demos, and Alice Katz, who was a key part of the original songwriting sessions, joined as well. To round out the lineup they recruited drummer and friend Nik Hughes.
Youngblood Hawke captures the sound of 5 friends in mid-journey. It is the snapshot of a state of mind where, one mountain has been climbed, and there are more in the distance. But for right now, the view is beautiful.
Website: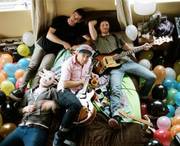 Aan
Aan is a fearless experimental pop band from Portland, Oregon mixing heavily textured guitars with rich vocal harmonies. The band has been active since 2007 self-releasing several CD-Rs and garnering a reputation throughout the Northwest as a progressive force in the independent scene.
The band beckons a bevvy of comparisons but their sound cannot be pigeonholed. The vocal dexterity of singer Bud Wilson skillfully reaches the octaves of the late Jeff Buckley while maintaining a timbre that's much grittier. Aan's arrangements lie somewhere between Sub Pop's late nineties catalog and the Anticon label's inventiveness.
Their forthcoming LP "Amor Ad Nauseum" will be the groups first proper release. The work will demonstrate a patience and attention to space not found in much of the new cannon of up and coming artists. Aan will continue to tour through the continental US in 2012.
Bandcamp:




Facebook: