Saturday, October 6, 2012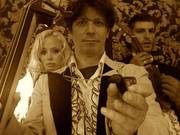 Dan Haley is "Mr Casual"
The word is out. Dan Haley IS Mr. Casual. The fog surrounding the 1989 cult release, "Mr. Casual Sings ... For You" has lifted as Dan Haley has revealed that he is the man behind the apocryphal "lo-fi" masterpiece. After nearly a decade of living in relative obscurity as an in-demand sideman in Central Vermont, Haley has decided it is time to revive his career as frontman and ace songwriter.
In Portland, Oregon of the 80's and 90's Haley enjoyed "Hot Tip" status for writing quirky, harmonically dense compositions and for delivering high energy performances both as a solo artist and as a founding member of progressive rock outfit, Ed & The Boats, which sailed the Northwest music scene for 12 years.
Artists from the burgeoning Portland/Seattle scene honored him by covering his songs in a tribute album. Among those participating was Billy Kennedy, himself a legend of the Portland scene. "Dan Haley is still the quintessential quixotic NW singer/songwriter. His sense of melody, literate lyricism and relaxed charisma make his songs indelible in their musical complexity balanced by a pop accessibility", says Lisa Lepine, former "Boats" manager (and also manager of Dave Carter & Tracy Grammer) and branding queen of the Pacific Northwest.
Haley went deeper underground toward the Millennia's end spending a couple of years in Germany writing, touring and recording with acoustic-rock trio, "The Rails". Then, in summer of 2000, He returned stateside landing in Vermont to be closer to his mother (who lived in a mobile home in East Montpelier) and to explore the musical possibilities of the Green Mountains. Soon, Haley slipped into the not unfamiliar role of mandolinist or guitarist/ harmony singing sideman in any and all genres in any and all genres in this small but vibrant scene. He's accompanied bluesman Derrick Semler, Country artist Mark LeGrand, jazz chanteuse Tarynn Noelle, singer/songwriter/fiddler Susannah Blachly and Vermont icon, Spencer Lewis.
At the outset of his tenure as a Vermont musician, Haley rekindled his passion for the jazz idiom, reading, listening, jamming and seeking instruction in the improvisational subtleties of this many faceted, living, American Art (he can now be heard playing guitar and mandolin in The Improvisions Jazz Ensemble led by Vermont's classical/jazz piano giant, Michael Arnowitt). This interest has influenced Haley's approach to writing and performing in all other genres.
The passing of his mother (May 7, 2008 to ovarian cancer) seemed to somehow motivate Haley toward the goal of presenting his own songs to the world. Instrumental to this metamorphosis was Noah Hahn, bassist, songwriter and founding member of Montpelier's Langdon Street Café. Hahn and Haley joined forces with Mark Legrand in 2005 to form Mark Legrand & The Lovesick Bandits, a rockabilly trio and Hahn's maiden voyage on the stand-up bass. They made a CD in 2006 and played around the state as well as gigging weekly at Langdon's Friday evening "Happy Hours". The trio stopped playing regularly in 2007 but continue to gig sporadically. In 2007, Haley and Hahn partnered up with Accordionist/pianist extraordinaire, Tim Lang to form Paris Bathtub, a short-lived but musically intense trio mixed jazz, Eastern European, Americana and any genre at hand with the original songs and visions of each member. During this time, Haley and Hahn also formed an acoustic folk duo called The Ovenbirds and occasionally accompanied folk star, Anais Mitchell (Hahn's wife) in Performance.
In 2008, with the dissolution of the "Bathtub", Hahn encouraged Haley to bring his songs back to the frontline and to create a vehicle for their performances (Hahn had suggested in 2006 that Haley restore the set list from the "Mr. Casual sings." tape and the duo performed several of those songs at Montpelier's Positive Pie opening for Portland touring artist, Scott Fisher.) And so "Dan Haley Is Mr. Casual" was born.
Haley and Hahn form the core but there have already been many auxiliary members including Rachael Rice (bandleader to The Taoist Cowgirls and Rachael Rice & The Cosmic Americans, also Haley's girlfriend). On occasion Rice provides alto sax, rhythm guitar, harmonica and vocals. Other guests have included Katie Trautz (of The Mayflies and director of Summit School of Traditional Arts and Music) on vocals, Pitz Quattrone (The Earthman Band) on didgeridoo. Other guests have provided oboe, clarinet, vocals, and electric guitar.
DHIMC's repertoire features Haley's oldest and newest songs as well as originals by Noah Hahn. They also play a small amount of covers, some by good friends (Portland's Jim Boyer, Germany's Mike Blackner) and some by past and present masters of the radio ( Chuck Berry, Michael Hurley).
Armed with a new band, new songs and fresh determination to lead, Dan Haley Is Mr. Casual is poised to embrace and encompass the world. Says Haley, "I never promoted my own music very hard - somehow, people latched on to it anyway but only in small circles. I've been playing music in central Vermont for almost 10 years but now, I feel like the climate is right for people, beyond that ever-loyal core fan base, to embrace my songs. I'm ready to take it to a higher level. I feel I have something to say that people need to hear." ....