Sunday, October 14, 2012
Festival of Positivity

The Festival of Positivity Benefit Concert

MarchFourth Marching Band

Storm Large w/special guests from PHAME

Tango Alpha Tango

PHAME Combo – Matthew Gailey, Music Director

Ian Karmel

Speaker Minds

Will Koehnke

6 p.m. doors, 7 p.m. show

21 and over

$25 advance, $25 day of show, $40 VIP tickets (includes floor and mezzanine sections and hospitality)
The Festival of Positivity Benefit Concert
The inaugural Festival of Positivity! A weekend of fundraising to draw attention to all that is going well in our world. All net proceeds of the Festival will fund FOUR very worthy causes tied together by the dual positive theme of young people (our future) and the arts (our expression). The Scholarship for Young Filmmakers will award resources to individuals 30 years of age and under who will be charged with making films that are based on "what is going well in our community, state, country, or world." This is the cornerstone of The Festival of Positivity in that the films will premiere at next year's festival.
Activities besides the Crystal show -featuring four bands and two comedians-include a ping pong tournament and a par-3 golf marathon.
ABOUT US
The close knit band of friendly warriors that is behind the Festival of Positivity is inspired by other Portland, OR goings-on as well as gatherings like Sundance Festival and the New Orleans Jazz and Heritage Festival. What we encountered are like-minded people spending their spare time doing what they love and helping others along the way..
Festival Founder David Kamens first visited Portland in 1997. A decade later he transplanted here and immersed himself into the scene and now wants to create a long-running, arts-inspired, youth-benefitting, Portland-based, 3-day long, sports and music-driven PARTY!.
We figure that it doesn't take much of an effort to find that which is not going well in our surroundings, so to celebrate that which IS going well, share some laughter, perhaps even shake our groove-thing a bit, and inspire a chain of positive occurrences....we can match the effort of those that have inspired us... and give back, leave a nice, recyclable mark, and know that a bit of positivity can lead to even more.
The Positivity Panel includes great Portlanders like money mogul Cole Mills, the fabulously organized Nichol Seeley, the ever-present Geoff Rogers, the tireless scribe Jo Sparkes, the inimitable Tim Titrud, the therapeutic Mella Kaufman, the can't-miss-kid Erik Peterson, and the perfect pitch of Allison Carter.
And "About Us" would not be complete without turning it back to you, our supporters, our friends both new and old that feel enough of the same way to "play along."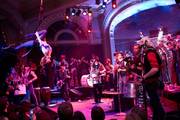 MarchFourth Marching Band
With a rallying cry of "JOY NOW!" MarchFourth Marching Band (known as M4 by its growing legion of fans) throws itself and the audience into a swirling volcano of high-energy music and spectacle. What began as a Fat Tuesday party on March 4, 2003 in Portland, Oregon has over the last 8 years become one of the nation's best live touring acts.
Aside from the band's marching band themed costumes, percussion corps and brass, M4 is far from a "marching band" in any traditional sense (though the band has been known to parade down Main Street before taking the stage). M4 is anchored by funky electric bass, and has been evolving into a more guitar- and vocal-driven musical experience. In one 90-minute set the band will take you on a journey from the swamps of Louisiana to the gypsy camps of eastern Europe to the African jungle by way of Brazil, along the way stopping to sample the deepest grooves of the best of American funk, rock, jazz and boiling it all together in cinematic fashion with high-stepping stilt-acrobatics and sexy dancers. This genre-busting approach is usually the territory of DJs, but this band is real people making music and art in real time-and every show is different.
At the core of the band is its DIY ethic. The band has been writing and arranging all of its own material, designing and fabricating its own costumes and merchandise, developing its own choreography and managing itself from Day One. MarchFourth is akin to a team sport with a roster of nearly 30 performers to choose from, though the band tours with approximately 8 horns, 5 drummers, bass, guitar, and 5 dancers/stiltwalkers.
The first two studio albums released by MarchFourth were recorded, produced and mastered entirely "in-house." Their new release, Magnificent Beast (out 10/25/11) was produced by Steve Berlin (Los Lobos) and features a wide array of genre-mashing groove-based material that incorporates more vocals and guitar than previous albums. Following their 2009 release, Rise Up (a tribute to post-Katrina New Orleans), Magnificent Beast has now evolved into a full-blown big-stage brass-rock-funk assault peppered with moments of swing, jazz, bollywood, ska and metal.
With so many members and writers, M4's influences are all over the map, but fans of Sgt Pepper, Duke Ellington, Gogol Bordello, Ozomatli, and Cirque Du Soleil would likely feel at home in the audience.
MarchFourth inspires dancing... when the audience can tear its eyes from the kaleidoscope of visual energy (and maybe even a crowd-surfing stilter) pouring from the stage. "Part New Orleans brass ensemble, part groove-heavy rock group, and part vaudevillian circus, this group unleashes such a technicolor experience that using the word 'concert' to describe their performance falls flat" (5820 Magazine). M4 provides the opportunity to come together in joyous union with a band whose mission is to seize the moment, bring communities together, and leave everyone feeling as if the world is a better place.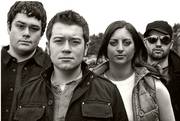 Tango Alpha Tango
Featuring members of the now-defunct Carolines, Tango Alpha Tango play an exciting jam mash up of folky tunes combined with Indie rock and roll and some western swing.
"Tango Alpha Tango makes exactly the kind of rock 'n' roll I can get behind; it's sweeping, dramatic and unapologetically evil at the most surprising of moments. Tango relies on slinking bass lines and lyrics so enticing they feel like they're being whispered in your ear during a slow dance." - Willamette Week
"Tango Alpha Tango have a bit more urgency to their sound, and cultivate a delicate, damaged beauty; the songs are either folkier and more pointed, or trashier and glammier" - Portland Mercury
Nathan Trueb: lead vocal, acoustic and electric guitars, harmonica
Mirabai Carter-Trueb: bass guitar
Aaron Trueb: piano, Rhodes electric piano, keyboards, vocals
Walker Beckman: drums, percussion, vocals
MySpace page:




Facebook page: