Friday, November 2, 2012
Mortified Portland! 5th Anniversary shows!

6 p.m. doors; 8 p.m. show

21 and over

$12 per person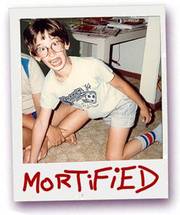 Mortified Portland! 5th Anniversary shows!
Launched in Los Angeles in 2002, Mortified describes itself as a "comic excavation" of the past, inviting all to mine shoeboxes, closets – wherever lost secrets are stored – for documents of their youth, much like founder Dave Nadelberg did in the late 1990s when he found an old love letter he'd neglected to give its intended. "I started reading it to friends," he recalled. "I'm not a performer in any way, but I found that I was getting a big, cathartic rush by sharing it, even with strangers. Then they started telling me they had writings of their own."
There seems to be no shortage of shoeboxes and packed attics. Mortified has grown from its L.A. roots to eight U.S. cities (and Sweden) and blossomed from a stage show into a grassroots phenomenon, thanks to curious press, word-of-mouth, and an endless fascination with adolescent folly. The Web site, getmortified.com, boasts blogs, video and other embarrassing artifacts in addition to informational content.