Saturday, October 6, 2012
St. Johns Boosters and McMenamins present...

Oktoberfest at St. Johns Theater & Pub

12 noon 'til 8 p.m.; music starts at 1 p.m.

All ages willkommen!

Free
It's like a little piece of Germany, right here in the Pacific Northwest! Join fellow fans of the old country for live music, food and drink specials and a general feeling of merriment and conviviality.
The Second Annual co-sponsored St. Johns Oktoberfest will be held Saturday, October 6, 2012, from Noon To 8:00 pm, at the Corner of North Ivanhoe Street and North Charleston Avenue in the McMenamins St. Johns Theater and Pub parking lot. This event is co-sponsored by the St. Johns Boosters and McMenamins. A benefit to raise funds to support the St. Johns Business District Street Lights for the holiday season, this family-friendly event will include free music and fun, along with sausage plates and kids hot dog plates, side dishes, roasted corn, hot cider, and beer and soda for sale, a raffle of prizes from local businesses, and street vendors featuring local crafters and artists. Fun and games will be provided for kids and adults.
Oktoberfest mugs Are Available for Sale at Weir's Cyclery, The Body Bistro, Etcetera, The Man's Shop, Ace Hardware, Hustad Funeral Home, and The Olive and Vine for $7.50. These will go fast so shop early.
Plate tickets can be purchased at Geare Music, Etcetera, Patties Home Plate Café, and Anna Bannanas for $7 for a sausage plate and $5 for a hot dog plate.
All proceeds benefit the St. Johns Boosters Work to "Light Up Lombard" with tree lights.
Live Music Schedule
1 p.m. 'til 3:30 pm
Mcmenamins Oompah Band
4 p.m. 'til 6 p.m.
Roseland Hunters
6:30 p.m. 'til 8 p.m.
Catch And Release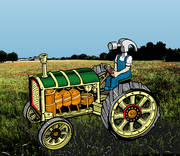 Oktoberfest at St. Johns Theater & Pub
When you imagine Oktoberfest, what comes to mind? Oom-pah bands, loads of beer, bratwurst and hamburgers and more! One and all are welcome to participate in the German celebration that is Oktoberfest! Begun as a wedding party for Germany's Crown Prince Ludwig and Princess Therese in 1810, today Oktoberfest is celebrated all over the world with music, singing, dancing, beer, food and revelry.