Tuesday, May 22, 2012
5:30 p.m.

All ages welcome; recommended for 13 and over only

$3 at the door; no advance tickets necessary
Join us for a Q&A with filmmaker Eliaichi Kimaro immediately following the film.
Please note: While the film is open to guests of all ages, we recommend that guests aged 13 and older only attend due to the nature of topics within the film.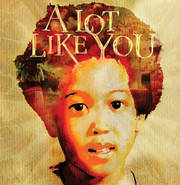 A Lot Like You
What happens when a woman goes in search of her identity and discovers that the cycle of violence she's been working hard to break in the U.S. is part of her history and culture on another continent?
•
"A Lot Like You takes us on a personal journey into the most vulnerable corners of a family history spanning generations and continents. This layered documentary starts with a familiar exploration of mixed-race identity as the narrator searches for her roots, but brings the discussion to surprising levels of personal and political self-awareness. Fresh and inspired, tender and uncommonly smart, A Lot Like You triumphs as an exemplary work of first-person documentary for the 21st century."
— SFIAAFF Doc Competition Jury
•
A Lot Like You raises questions about the cultures we inherit and the cultures we choose to pass down, and reveals how simply bearing witness to another's suffering can break silences that have lasted lifetimes....
Seattle-based filmmaker Eliaichi Kimaro is a mixed-race, first-generation American with a Tanzanian father and Korean mother. When Eli was older and in an interracial relationship of her own, she wanted to better understand this world her father had left behind when he was 18. So when Dr. Kimaro retired and moved back to Tanzania for good, Eli followed him to make a film about this culture she would one day pass down to her kids.
What Eli discovered on that trip – in Tanzania, in her family and in herself – is the subject of this personal documentary, A Lot Like You. As both a cultural insider and outsider, Eli asked questions that most people who grew up on Mount Kilimanjaro would never think to ask. Unexpectedly, the stoic women in her family opened up, telling Eli stories about trauma and survival that they'd never even shared with each other as sisters.
And so Eli must reconcile this culture she's inherited with how she defines herself today – as a woman, as an activist and, perhaps most of all, as a mother. And in the process, she finds a way to translate her father's tribal culture into her own personal legacy.
On shelves now, review of film in Portland's own Bitch Magazine (p. 70)
Interview with Eliaichi Kimaro
Film Website:




Facebook: