Thursday, November 1, 2012
Meet The Brewer • Special Beer Tasting

Lord Gourd Pumpkin ImperiAle

5 p.m. 'til beer is gone

All ages; 21 & over to taste

Limited-edition beer at happy hour pricing all night
Lord Gourd Pumpkin ImperiAle
This month enjoy our Church firkin filled with cask-conditioned Lord Gourd Pumpkin ImperiAle. This is how a pumpkin ale was meant to be drunk!
Hand-chopped organic Oregon pumpkins were roasted and then mashed into the grain bed during the brewing process as well as added to the kettle as an "aroma" addition. Cloudy orange with an off-white lacey head and subtle spice nose, you will hardly notice the high alcohol content as you imbibe in this festive brew. Over 8 pounds of pumpkin per keg provide the color and meatiness while carefully chosen spices provide the seasonal backbone of the beer.
Malts: German Pilsner, Caramunich 40L, Flaked Barley
Hops: Golding and Brewers Gold
Yeast: German Kolsch
Adjuncts: 100 pounds of fresh Oregon organic pumpkin from Lauer Boer Goat Farm, Fresh Ginger, Clove, Nutmeg, Cinnamon, Vanilla and Oak chips
OG: 1.075
TG: 1.010
ABV: 8.3%
IBU: 15
SRM: 6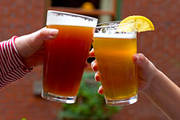 Meet The Brewer • Special Beer Tasting
Join us once a month as the brewery unveils another firkin handcrafted ale.
Talk to the brewers, ask beery questions, enjoy happy hour pricing all night long on these limited-edition pints and more.
And when the beer is gone, it's gone.