St. Patrick's Day Celebration!
Bingo & Friends (3 p.m. to 6 p.m.)
Cat Food Band (6 p.m. to 8 p.m.)
& Leprechauns!
Specials: MacSleyne Irish Stew, Corned Beef and Cabbage
Irish coffee and Irish stout!
All day |
Free |
All ages welcome
Events in the schedule below are free unless noted.

Ringlers Pub:
3 p.m.* Bingo
6 p.m. * Cat Food Band
Crystal Ballroom
$9.99 advance, $9.99 day of show
8 p.m. 'til 8:30 p.m. * Ashleigh Flynn
8:30 p.m.* River City Pipe Band
8:30 p.m. * Under a Blood Red Sky - A U2 tribute band
Al's Den:
3 p.m. 'til 4 p.m. * McMenamins ale tasting
6:30 p.m. 'til 7:30 p.m. * McMenamins beverage tastings
7 p.m. * Asher Fulero
10:30 p.m. * DJ Stargazer
Zeus Café:
Corned Beef & Cabbage and Irish Coffee specials
****
Leprechaun Con
7 p.m. * Al's Den
8 p.m. * Ringlers Pub
9 p.m. * Crystal Ballroom
Jake's Tent:
Private event open to Crystal Hotel overnight guests and VIP pass holders only
3:30 p.m. 'til 6:30 p.m. * Bagpipers
4 p.m. 'til 5 p.m. * Crab cake tasting in the tent
About Bingo & Friends (3 p.m. to 6 p.m.)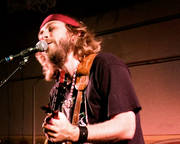 Bingo is not trying to sell you anything. He has nothing to prove and there is nobody that he wishes to alienate. He plays music because making something beautiful to leave behind for future generations is the only reason he can find to joyfully remain as a member of such an otherwise embarrassing species. His music achieves different ends for different listeners; some dance, some sing along, some find some kind of comfort in the stories that he unravels. His fans are from all walks of life and all age groups.
Bingo plays original music, and various obscure covers and traditionals in an intuitive style that is informed by a vast array of influences: Rock, Blues, Country, Jazz, Psychedelic, Trance, Gospel and Bluegrass - basically, everything that he has ever heard or seen that has effected him. The mix is highly potent and always unique. Coming from the Holy Modal Rounders, Golden Delicious, and Freak Mountain Ramblers; Bingo is a true original and a national treasure that embodies the lineage of American folk music.
Bingo has a voice that is real and haunting and sounds like nobody else. Comparisons are inevitable, though, in this day and age and so there have been some names mentioned in attempts at description: John Lennon, JJ Cale, Randy Newman, Jerry Garcia, Bob Dylan, Lucinda Williams.
No Depression has called Bingo's live show "Jaw Dropping."
Other writers have tried to categorize his music as "Transcendental Americana" or "Tenderly Psychedelic Folk." You can call it whatever you want. If you are tired of music made by cookie cutters and people that are trying too hard to "make it," listen to Bingo ... he's convinced that there's nothing left to make but music.
website:
About Cat Food Band (6 p.m. to 8 p.m.)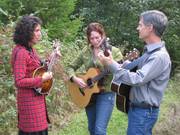 The Cat Food Band is a local acoustic ensemble that enjoys traditional and contemporary folk music. For St. Patrick's Day, we'll dust off our favorite Irish songs and tunes.
About & Leprechauns!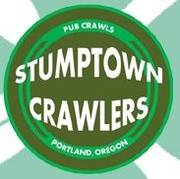 There must be rainbows and pots of gold in Portland, because leprechauns will be celebrating this St. Paddy's day with us in style. Stumptown Crawlers brings together an event again for spirited people to dress up. The Leprechauns will be wearing the mighty color green, shamrocks, and be in good Irish cheer. Be on the watch and ye might find some luck and a glimmer of gold.
Official Website:
Map & Directions
Tags for this Event:
Events:
Holidays
Beer, Wine, and Spirits
McMenamins Celebrations
Music:
Americana
Groove/Jam
Property > Crystal Hotel
Related content (tags):