A truly remarkable destination.
2126 S.W. Halsey St.
Troutdale, OR 97060
Local: (503) 669-8610
Elsewhere: (800) 669-8610
Contact Us
Limited-Edition Beer Tasting: June Is for Wheat Lovers
5 p.m. 'til the beer is gone! |
Limited-edition beer at happy hour pricing |
21 and over
Tee times. Tea time. Mercenaries. Seychelles islands. China. Delicious wheat ale. All these things come together at the Edgefield Distillery Bar on June 14th. Those crafty brewers from Edgefield have infused two pony kegs of our Deep V Wheat Ale with special ingredients, including several teas from The Tao of Tea.
There Are No Golf Courses on the Seychelles Islands Rooibos-Vanilla Wheat
Dry hopped with South African Rooibos tea, cranberry-orange herbal tea, and vanilla bean, this a is refreshing and complex wheat ale­--perfect for a hot day on the golf course. The name references a failed coup by Col. "Mad" Mike Hoare against the African island nation of Seychelles. The colonel tried to smuggle his weapons into the island country in golf bags. What's suspicious about that?
Ma Yin Jasmine Green Tea Wheat
As varied as the landscape of Hunan Province, this wheat is dry-hopped with green-jasmine tea and cranberry-orange herbal tea. Pleasant aromas and intricate flavor abound!
Deep V Wheat
Think summer. Think Fields of green and warm weather. The Deep V Wheat is named after the Edgefield Brewers favorite summer T-shirt style! With Wheat malt making up only 30 percent of the grain bill, Deep V is a very smooth and easy drinking beer. Light yet flavorful, Deep V will quench any beer lovers summer thirst.
Malts: Premium 2-row, American Wheat, Vienna
Hops: Sterling, Golding, Crystal
O.G.: 1.043
T.G.: 1.005
ABV: 4.9
IBU: 19
SRM: 3
About Limited-Edition Beer Tasting: June Is for Wheat Lovers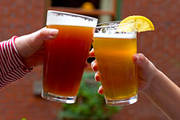 Join us once a month to sample a new, small-batch beer, handcrafted by one of our brewers.
Talk to the brewers, ask beery questions, enjoy happy hour pricing all night long on these limited-edition pints and more.
And when the beer is gone, it's gone.
Map & Directions
Tags for this Event:
Events > Beer, Wine, and Spirits
Property > Edgefield
Related content (tags):