A truly remarkable destination.
2126 S.W. Halsey St.
Troutdale, OR 97060
Local: (503) 669-8610
Elsewhere: (800) 669-8610
Contact Us
Crazy Christina's Caramel Corn Ale
Limited-Edition Beer Tasting
5 p.m. 'til the beer is gone! |
Limited-edition beer at happy hour pricing |
21 and over
Crazy Christina's Caramel Corn Ale
Like a trip to the state fair... with Weird Al headlining the big-top! Originally brewed for Cornelius Pass Roadhouse's Unique Side of Beer tasting coming up in late May, this ale was brewed with generous amounts of flaked corn and caramel Vienna malt. The flaked corn gives the beer a nice creamy mouth feel and subtle sweetness, and the caramel Vienna malt lends flavors of caramelized sugar thus adds a wonderful hue to the ale. Hops predominantly known for their spiciness allow the beer to finish with a nice crispness. The addition of a vanilla bean, added directly to the keg, adds smoothness and completes the nostalgic experience; you can probably hear the carnival organ now. So order up a pint, take a sip and let this beer take you back to the good times atop the Ferris wheel! Cheers!

Malts: Two-Row, Caramel Vienna, and Flaked Corn
Hops: Brewers gold, Crystal and Perle
SRM: 7
IBU: 26
ABV: 6.06%
Buzz words: Caramel, Slightly Spicy, and Nostalgia
About Limited-Edition Beer Tasting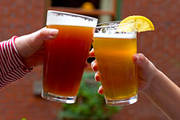 In 2012 we will be working to showcase the distillery/brewery connection at our Edgefield limited-edition beer releases.
Map & Directions
Tags for this Event:
Events > Beer, Wine, and Spirits
Property > Edgefield
Related content (tags):